This Stockade Buildings post-frame garage-and-shop project provides ample space for the client to place vehicles in and get right down to work.
The barn-style doors on the sides add a rustic touch while the cupolas each complete with a weather vane finish off this charming haven. The large doors are the perfect addition for gearheads, hobbyists or garage DIYers to bring their components, materials or vehicles through.  
The gable porch with shade provides an outdoor respite from the multiple projects happening within the vast space inside the main portion of the building.
The Tudor Brown and Light Stone wall steel combination for the roof and matching sides add to the curb appeal of this classic workplace wonder. FBN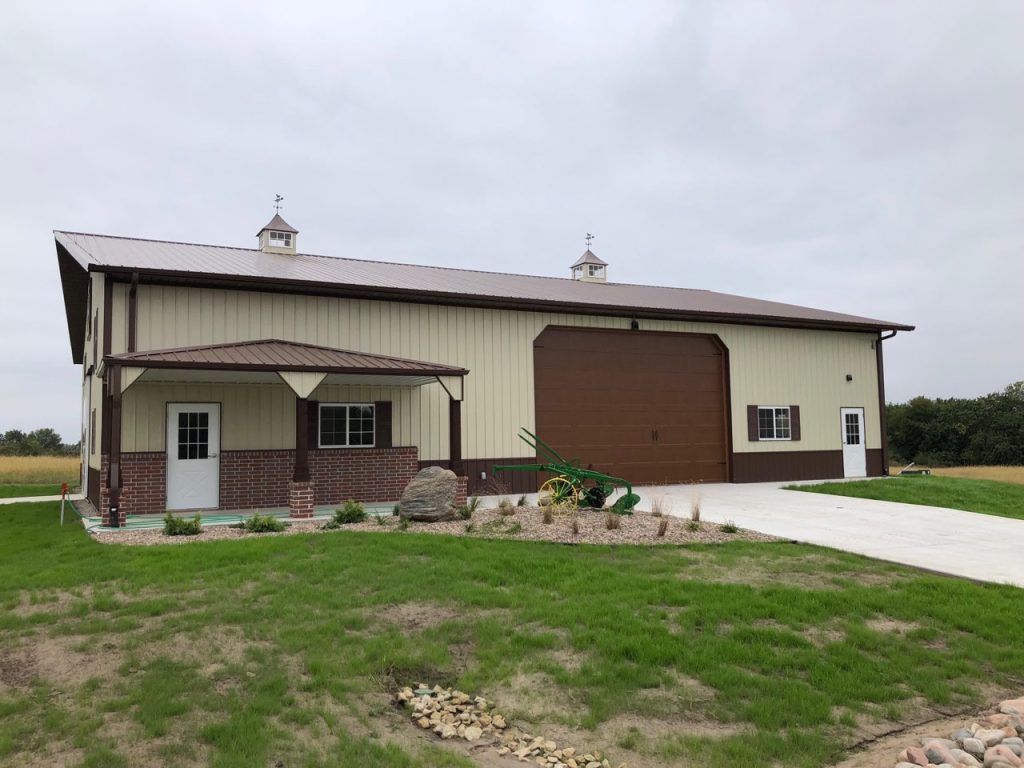 Project Details
Builder: Stockade Buildings, Inc.
Location: Andover, Kansas
Project & Size: Garage and Shop, 54' x 70' x 14'6", 14' clear height (after concrete floor) with 8' x 20' hipped roof porch
Primary Supplier: Stockade Buildings, Inc.
Roof Panels: Max-Rib Ultra Kynar 500 painted 29-gauge steel, McElroy Metal
wall panels and Trim: Roof steel and trims, Tudor Brown with Light Stone Wall Steel, McElroy Metal; interior steel liner, walls and ceiling, white 29-gauge SP, McElroy Metal; Matrix steel soffit, cut to length, white, 29 ga., McElroy Metal
Foundation: In-ground columns: 3-ply, 2" x 6" treated, .80, CCA. Upper columns: 3-ply, 2" x 6" glue- and nail-laminated, #1 SYP Flush Frame System including 2" x 6" (factory-installed) spacer blocking for 2" x 6" wall girts, 24" o/c
trusses: 56' with 12" overhangs, 10' o/c and a 15" heel height, Stockade Buildings, Inc.
windows: Columbia
Doors: Plyco #20 Service Doors with 9 lite kit
cupolas: 36" x 36", Plyco
fasteners: WoodMAC (stainless-steel) color-matched, SFS
ventilation: Continuous vented ridge, profile vent
insulation: 6" fiberglass walls R-30, blown-in, ceiling
condensation/moisture control: Vapor barrier, Low-E Micro Bubble, ESP