Pioneer Pole Buildings Inc.
Building Size: 20' x 40' x 11'
Doors: Shank Door Co.
Fasteners: Everlast
Foundation: Post-frame with concrete floor
Insulation: Batt, R-21; R-38 cellulose
Post: 3-ply 2×3, 8' OC, glulam beams, columns
Roof Panels: Everlast Roofing Black Metal, 27 ga.
Siding: Board and batten
Trusses: Standard wood trusses, 4' OC, 20' rafter span
Ventilation: Owens Corning
Windows: United Windows
Additional Details: interior: tongue and groove boards,
exterior: board and batten wood
www.pioneerpolebuildings.com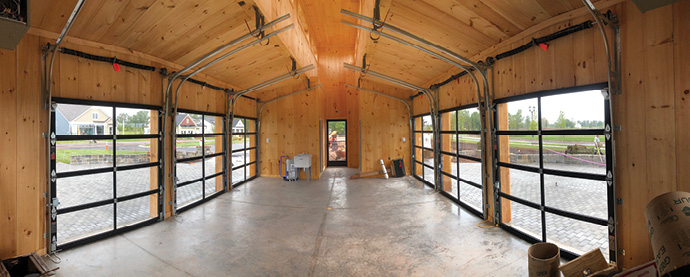 Pioneer's inside commercial team designed this project in keeping with the agricultural buildings on the property and surrounding area.
The Farmer's Market at AmbleBrook Gettysburg helps deliver farm-to-table, sustainable food options to the residents in this community. AmbleBrook provides its residents with a resort-like lifestyle, with a focus on full-spectrum wellbeing. The Farmer's Market at AmbleBrook ensures access to fresh meats and produce for its community by working with and supporting local farmers.
Everlast Roofing panels were featured along with western red cedar board and batten siding. 40' girder trusses allowed for the functioning clerestory design complimented by picture windows and full vision overhead doors with incline track from Shank Door Co. The interior has a partitioned off restroom and office and is completely insulated and finished off with Eastern white pine.