Large Diameter Screw Now Available
Dynamic Fastener has added a large diameter screw for attaching sheet to sheet, up to .048″ thick steel, or sheet metal to wood. The 17-10 x 1½" 3/8″ Hex Washer Head includes a Type 17 point. This fastener is the perfect solution to plug a hole that was previously occupied by a #14 diameter screw. The screw is available with a 5/8″ outside diameter washer or without. Also comes standard with Dynamic Fastener's Dyna-Coat® 1000-hour salt spray premium coating.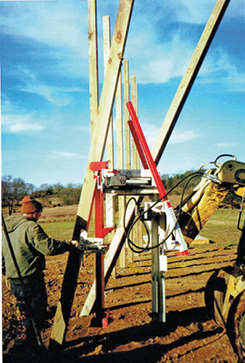 Post Setter and Boom Make for Easier Work
The "Heavy Set" Post Setter will clamp onto any post from 4½" to 8½" and accurately plumb and position it. This is done after the post is standing in the hole—the point where the hard work begins. Vials are placed so that the skid loader operator can easily see them as he plumbs and positions the post. A slide system similar in function to a milling machine table allows the man at the post to fine-tune the position without affecting the plumb. He then releases the post, allowing it to slide to the bottom, still held securely plumb and in position. After tamping or bracing the post, two hands are required to completely release the post. This adds safety—posts are heavy! An optional hydraulic tamper makes short work of tamping. The Heavy Set is geared toward speed and high production. Maintenance is near zero, which makes it a highly attractive rental attachment. Customer satisfaction has been high.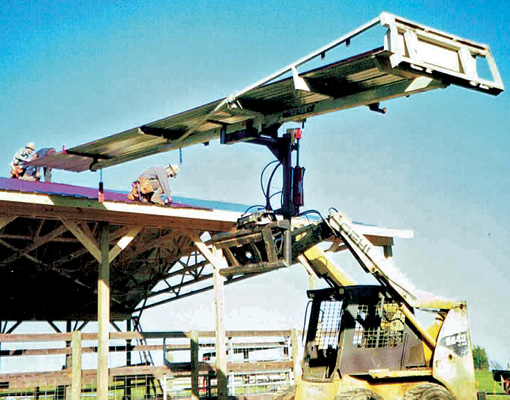 The "Tele-Fold" Boom is a most valuable attachment on our crew. It is a great truss boom, folding to fit across a trailer and extending to 22′. It is also much more. The cradle on top allows it to serve as a great material handler as well, and precise construction even makes it useful as a cutting jig! You can cut to an even 2′ without using your tape measure. Then you can put your cut lath to the roof edge. If you are putting up roof metal by hand, this boom can change your life. Have high winds? With the Tele-Fold, your stack can be secured while metal is pulled out the end, one sheet at a time. Your imagination will show you many more uses. The owners of a skid loader can experience some of the benefits of a sky-track with this product. Capacity will vary with machines. The above uses are possible with a compact wheel machine, though bigger is better.
As a builder all my working years, I have gone from employee to manager to majority owner of our small family construction business. Currently I am in partnership with my brother and we have two employees. As you probably have, I have faced situations where it seemed like a better way should be available. Think setting 20′-long 6′ x 6's by hand. In time, I was blessed with the resources necessary to develop these products. I am quick to get the welder, put something together, and try it out, even if it is dubbed a wild idea. I have given those around me some good laughs at some failed projects. The original Post Setter was ugly and showed signs of much reworking, grinding, welding, etc., but it ended up working great.
Customer feedback has been positive on these products, which increases our confidence in the idea that our needs are the same as many others' in the building trade. Keep watch…we're not really out of ideas!
Phone: 270.925.5952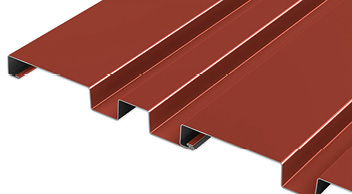 PAC-CLAD Box Rib Wall Panels Expand Design Options
Petersen expands its family of PAC-CLAD Precision Series wall panels with the introduction of the Box Rib line. The four new Box Rib wall panels feature 87-degree rib angles and a variety of rib spacing patterns. The Box Rib architectural wall panels are 1 3/8″ deep with a nominal 12″ width. They deliver design flexibility while combining bold visual effects with easy, cost-effective installation. Each of the four Box Rib profiles is offered in a no-clip fastener-flange option, or a clip-fastened panel to accommodate thermal expansion and contraction.
Architects and designers can specify one of the four panel profiles or combine multiple Box Rib panels on the same surface to create custom patterns of ribs and valleys. Petersen's Box Rib panels are ideal for practically any structure that requires exterior wall cladding such as schools, hospitals, banks, sports facilities, office and industrial buildings, and most other nonresidential applications, but can also be used on residential buildings.
"Petersen continues to respond to architects who tell us they want more options for wall cladding by introducing the Box Rib line," said Mike Petersen, President of Petersen. "As architects' creativity evolves, our product line also evolves with the same high-quality manufacturing, technical support, and testing that Petersen is known for."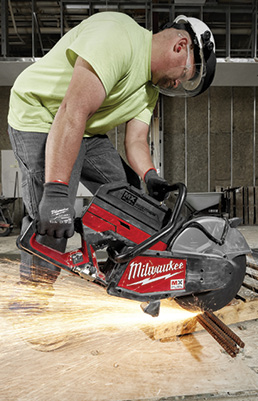 MX FUEL Equipment System Redefines the Market
Milwaukee's new MX FUEL™ 14″ Cut-Off Saw provides a full 14″ cut capacity and the fastest cuts from start to finish, all powered by their MX FUEL REDLITHIUM battery pack—eliminating gas headaches. The push-button activation requires 97% less effort than a recoil start by eliminating the repetitive motions of a pull start. It allows you to start the saw in seconds every time, reducing downtime so you can get the job done faster. Wheels on the front of the saw help create a straight, consistent cut with less strain.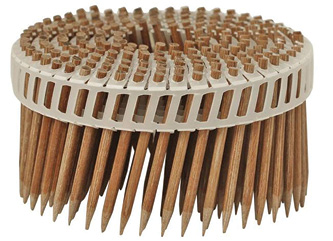 LignoLoc® Wooden Nail System Now Available in North America
Introducting LignoLoc, the latest innovation by the BECK Group®. It is the first collated wooden nail and provides a variety of benefits when compared to traditional metal fasteners. These wooden nails are driven into solid structural timber without any pre-drilling and form an inseparable bond with the surrounding wood. LignoLoc are made from European indigenous beechwood and boast a tensile strength similar to aluminum nails. LignoLoc is versatile when it comes to application, as it can be used indoors, outdoors, or in areas susceptible to corrosion.
The special design of the LignoLoc nail tip and heat generated by friction as the nail is driven cause the lignin of the wooden nail to weld with the surrounding wood, forming a substance-to-substance bond. LignoLoc wooden nails are shot pneumatically. This completely eliminates the need for any additional pre-drilling, such as required with wooden dowels, which in turn saves time and money.