By Linda Schmid
Trends may come and go, but when the trend means greater function, you wonder if it may become the norm. That is the case with the new horse barns that so often incorporate space for people as well as horses. They are multi-purpose projects, says Tim Noble, who builds horse barns in Kentucky, the "Horse Capital of the World."
Dennis Marion of Innovative Equine Systems sees a change in the horse barns people are building, too. "In some cases, these changes have involved looking for more modest designs for either primary equine centers or secondary facilities for overflow," Marion said. This is because the cost of building, like everything else, is up.
However, there is a surge in barns that are created for both people and horses. Noble said, "You might find that a customer wants a facility that is part horse barn, part garage, part party barn.Horse people like to be near their horses, so many request living space or lounge/party rooms in the barn. Some owners want a kitchen so the ladies can invite their friends, sit and have coffee, and then take their horses out."
As far as size, 36' x 38' to 60' x 72' are common. Tom Wondra, Chief Financial Officer of Walter Buildings sees bigger barns trending, with stalls that are 12' x 12' and 10-16 per building. Buildings range from 36'-40' x 96' and often feature steel panel roofing, he said.
Stained southern yellow pine is very trendy for interiors according to Noble. Wondra agrees. He states that the walls and dividers will often be stained pine in combination with white or steel liner panels and ceiling panels which brighten the interior considerably. Stalls are pine with powder-coated metal accents.
"The purpose of the space dictates the material," according to Shannon Clark, MWI Marketing Coordinator. "If you're looking at tack room cladding, the options are nearly endless. But what you will often notice is a rustic-chic look to these decorative spaces. Additionally, because tack rooms display and store expensive items, easy to dust (and/or wipe) cladding is becoming more popular. This helps in keeping an aesthetic, polished appearance."
Alicia Cahill, MWI Customer Service Manager, said, "Unlike tack rooms, wash bays are more utilitarian in nature, as they are a designated space to clean (and to be kept clean). PVC interior wall panels are often utilized for this application, as they can be washed down and rinsed after your animal leaves the space. They're lightweight, relatively inexpensive, and come in large sheets, which can be attached to stall walls for almost seamless protection."
Wash bays with hot and cold running water, steel or PVC liners, and good lighting are all in demand.
Marion sees keen interest in European style stabling, so Innovative Equine Systems has developed versatile Alpine Stall kits for contractors to easily provide these interiors, including stalls and partitions as well as Dutch doors and shutters. These heavy-duty design elements deliver the look of sophisticated European high-end facilities that is so popular.
"We recently added the horse play resistant MWI Vault Latch® with a secure retention system to our equestrian offering, Clark said. "Sometimes, horses are just too smart for their own good, so the latch sits nearly concealed at the top of the stall. You just pull down on the first grill bar to unhinge the latch — easy for the owners, but not for the horses!"
Sliding doors for stalls are another prevailing choice according to Wondra and Noble, while Dutch doors are in demand according to Marion.
Dutch doors can have other uses besides their traditional use. According to Clark, "If you're looking for a popular window option, your best place to look may not even have the word 'window' in the name. Bale and Dutch doors both provide a functional window in the back or side of a stall."
"Dutch doors provide the opportunity to open the top only for a window or the entire door for a run-out. They are normally ordered with a safety gate to keep leaners from damaging the doors or themselves," Cahill added.
"Those who aren't looking for a whole door tend to like the bale doors (approximately half the size of a Dutch door). Like the Dutch door, they can be opened for fresh air or closed to keep the elements out," said Clark.
"The bale door is commonly paired with a window grill — another trending horse barn product. This can be either hinged or fixed to protect the door and the animal," Cahill continued. "Both the Dutch door or bale door can be produced with a cross-buck or window option to provide either complete enclosure or a vista when in the closed position."
Some horse barns feature windows; many owners opt for double hung windows for ventilation with hinged grates for easy cleaning. Wondra sees them flying off the shelves.
People are very cognizant of the comfort of their horses and it is easy for a horse to get hurt, for instance they will bang their hoof if anything obtrudes into their path. Noble sees that many people look for everything they place in the stall to have rounded corners.
With comfort in mind, rubber pavers bordered with concrete to hold them in place are often the flooring of choice. Rubber is better for shoed horses, but many like concrete because it is easier to clean. The solution for some is to have stamped concrete that looks like plank floors, while others have plain broomed concrete installed, then they place rubber mats over them for the comfort and wellbeing of their horses.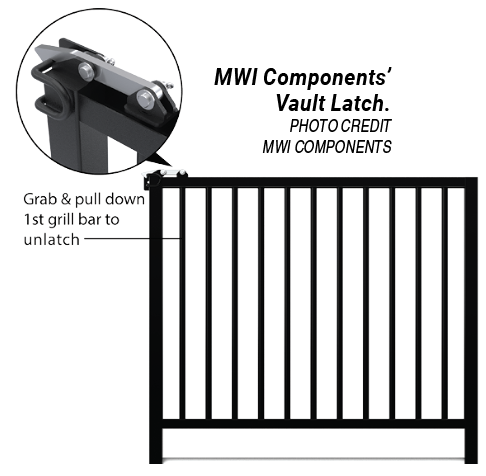 Continuing the safety and comfort considerations, lighting is usually LED; like high, round hanging lights that are out of reach in the bays or tube lighting, completely enclosed for safety. LED is better than other lighting because if the temperature is not steady in the barn, you flip on the light, and it warms up fast, then the light can blow up.
To keep the temperature steady, Noble sees foam insulation going into the walls.
Clark sees a switch from traditional insulation to foil insulation. "With regards to clean air, foil insulation doesn't release harmful fibers or dust, thus eliminating skin or airway irritations and providing cleaner air," Clark said.
Big fans are prevalent for ventilation, like the ceiling fans from Big Ass Fans. Place two 16-footers in a riding arena and not one corner is un-aired, Noble says.
"It's all about color-matching for ventilation!" said Cahill. "For example, while white used to be the only available option, many industry professionals are hopping on the color-match trend with color-matched gable and wall louvers, as well as color-matched ridge vents. People are also adding bale and Dutch doors to provide additional through-ventilation into a building and circulation in and out of the enclosed stall locations."
"While some ventilation products may be 'trending,' one should always consider ventilation needs over trending products. Keep in mind, it's ideal for the intake and exhaust to be equivalent; however, if they are not identical, a slightly larger intake than exhaust is preferred. … When it comes to air exchange, nothing is 'trendier' than an exemplary, build-specific, ventilation system," said Clark. FBN