Dennis Marion was working in the wine industry in California for 20 years before starting as a distributor and manufacturer. He was looking for something new to represent. Marion recalls his interest in an extruded plastic, high-tensile wire fence an Alabama business had invented. Marion and his group became a dealer for this company and their new fencing. "It was an interesting safety fence," says Marion. "We thought it was fascinating." The group was officially in the horse industry.
Marion says the new fencing was installed on a ranch owned by a movie star in Santa Rosa who was running cattle, even though the fencing was designed more for polo ponies. The inventor of the fence played polo. He once saw horses get injured in a substandard fence, so he wanted to make a safer fence for horses and other animals. "These had to be engineered because of the turns, the corners, the stops," Marion says. These types of advanced products in the equine industry is what attracted Marion. He understood the demand for high-end materials and containment structures that were reflecting the horse owners' love of these animals.
They started getting more into animal barns. Soon, Marion was working with architects who were designing interiors. This is when he started going international; Europe was pushing out higher-end equine products and living spaces.
"I was starting to import stalls from Holland." Marion adds the company they worked with was considered the finest manufacturer of horse containment in the world.
After importing from the Dutch company for a time, Marion and his company eventually broke away. They started developing their own products in the US. He discovered there wasn't anybody manufacturing high-end stalls in America.
"We were the first ones to come out with a European-style stall in this country," Marion says proudly. He adds horse owners overseas desire "frilly" quarters for their animals, and that this has been the case since the '40s. Marion relished the opportunity to offer these refined spaces to clients in this continent.
The equine facility industry is traditional. Marion recalls their early clientele were Europeans only interested in buying European-made products; these customers included visitors from outside of that continent. Many were used to purchasing high-end products from England, Sweden and Germany.
The owner and president of Innovative Equine Systems says they had found a fascinating niche in the market. Americans were looking for much higher quality in their horse stalls without having to turn to Europe. "People were looking for an alternative to the 'jail cell.'" Marion says there was a pent-up demand and a need to upgrade from the antiquated containment.
"All of sudden, people were very interested somebody was manufacturing quality products that they originally had to buy out of Europe."
Marion says back then, before they improved the industry here, many in the US thought "high-end business" was panelized construction. Innovative Equine changed this mindset and standard in the US market, working with architects who started designing stalls to match houses. In addition, the company developed high-end interiors including safety and maintenance features.
Aesthetics and higher-end products weren't the only reasons clients wanted European-style stalls; they wanted the open style for their horses, too.
"Horses are social animals; they like the open stalls. People were aware, even though they had large horses, they wanted to interact with other animals in their facility but also the people," Marion says.
Horse Talk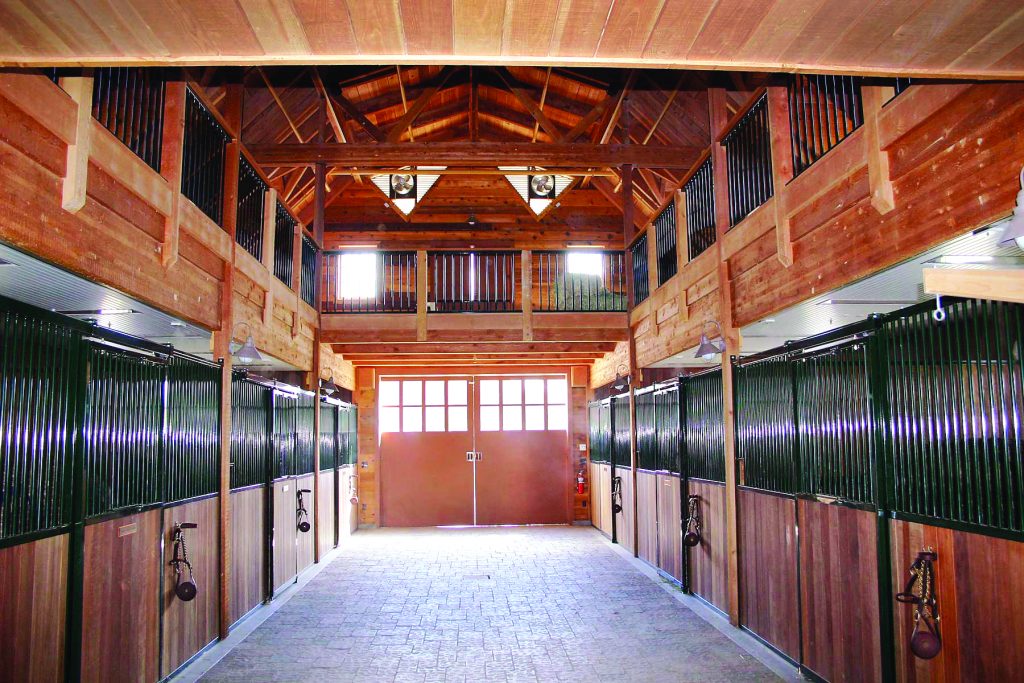 Innovative Equine Systems manufactures custom, classically designed stalls, partitions and doors for barn interiors, professional hardware and accessories such as finials, automatic horse waterers, rotating wash wands, bridle racks or door magnets, and specially made equine flooring. Post-frame structures are perfect for the company's components and accessories. "The pole barn really lends itself to this kind of industry," Marion says.
Their clients include those upgrading existing structures or stables. "We do a lot of remodels," Marion says. "I tell them I need photographs and I need a wish list." This initiates the conversation and starts the creative process. "If I'm starting with blueprints then I bid against the blueprints and a wish list."
He says they work on projects where the owners "don't exist."
"We've done work for very high-end facilities that are 'secret' and are 'coded.'" Marion says for these clandestine clients they'll fly in and will only meet with the contractor. They deal with several different scenarios and workers at a time. "I work with a different general contractor almost every day."
Product Gnaw-ledge
Some horses have vices (chewing, cribbing) that are destructive to stall doors. These vices compromise the walls and doors, leaving gashes and holes. Innovative Equine Systems develops products that solve issues like this. Marion says these horses chew on softwood, so they came up with a solution: use hardwood lumber in stalls and all-steel construction. Hardwood is more difficult for horses to bite. "It's harder to eat hardwood than it is to eat softwood," Marion says. They import their own hardwood from managed forests in Borneo and Malaysia.
Horses are prone to developing respiratory diseases after living in stalls with excessive dust buildup on floors. The company designed a proprietary, recessed stall floor. These are waterproof, non-slip rubberized floors with drains that prevent unhealthy dust accumulation. "We've developed a concept that in the long run is better for the horses and for maintenance."
The company offers a quick-installation Alpine Stall Kit as a containment option for those on a budget. "It's simple for homeowners; it's almost a DIY," Marion says, "or it's for general contractors to use when looking for projects." This gives another avenue for many looking for alternatives when remodeling.
"We just finished a project for draft horses using this kit – this handles a large animal or groups of farm animals." He said this project in Utah included posts only on 5' centers, and that the kit worked well. These kits have a door, a gate, a couple of wings and are capable of enclosing openings of 5 to 18 feet.
Project Plans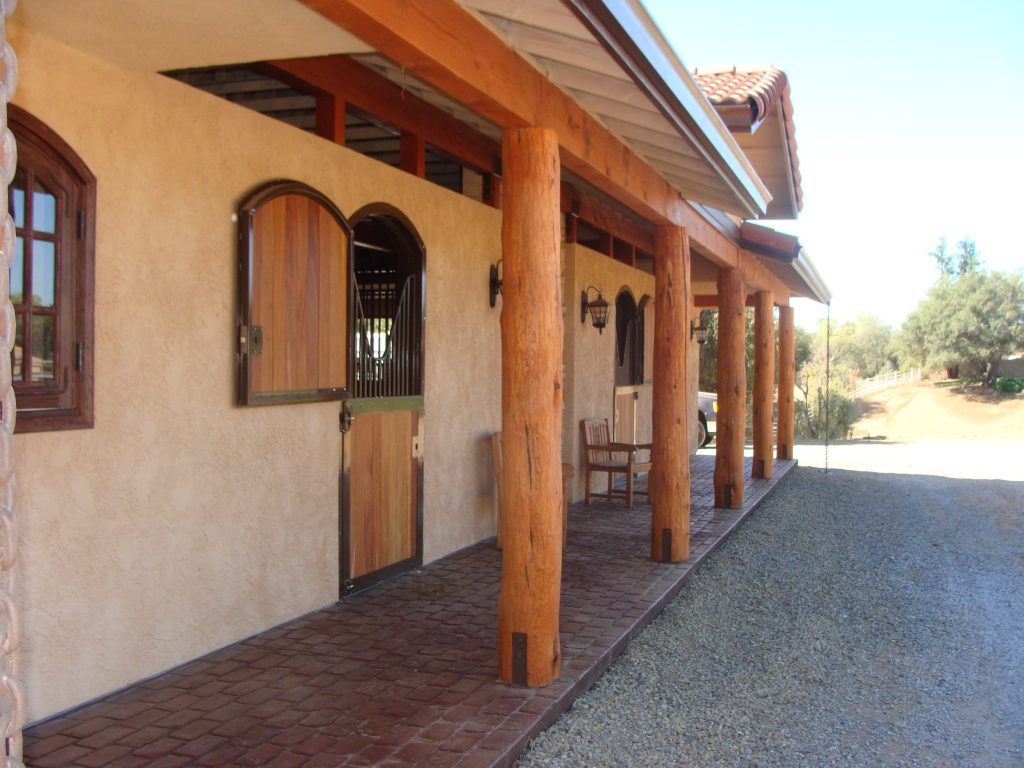 Most of their company's work is post-frame, and Marion says the majority of orders are for pole-barn facilities. He's keen on maintenance and cost issues on a project and understands clients' needs.
"A lot of people are really knowledgeable about what they want." He adds the conversation starts with them. "I'm not one to tell them what to do. Sometimes we work on a budget issue, sometimes it's a preference. I'll jump in when needed and throw out some ideas."
The company is working on a high-end project in southern California that has multiple horse trainers on-site. Marion always listens to them, as they know the horses' needs. "Trainers are involved and have an opinion, and they have the ear of the owners." He says he spends a lot of time with the architect on these projects. They've been working on these high-end projects for the past 20 years. He adds sometimes an owner will have an architect to work and collaborate with. "I'll help consult or lead them if they've never done equine architecture."
Marion says some contractors are more attentive than others, but always finds the experience rewarding. "I enjoy working with general contractors all around the country."
Marion has others in his family who entered the world of equines first. He remembers his daughter starting out with a deep interest in horses before him. "My daughter was a three-day [equestrian] eventer. It was almost coincidental more than anything," he recalls, saying again he got into the industry because their venture was exploring such an interesting niche in the market. FBN