Components and Information
Architect: Timber frame engineering and design by Marcus Weiss and Daniel Kilchenmann of European Timberframe Corp.
Plans for the building permit were drawn by Meyer Designs, Ltd.
General Contractor: Woodstyle Homes
Roofing Contractor:
Artisan Roofing Ltd.
Solar Installer:
Roost Solar, Inc.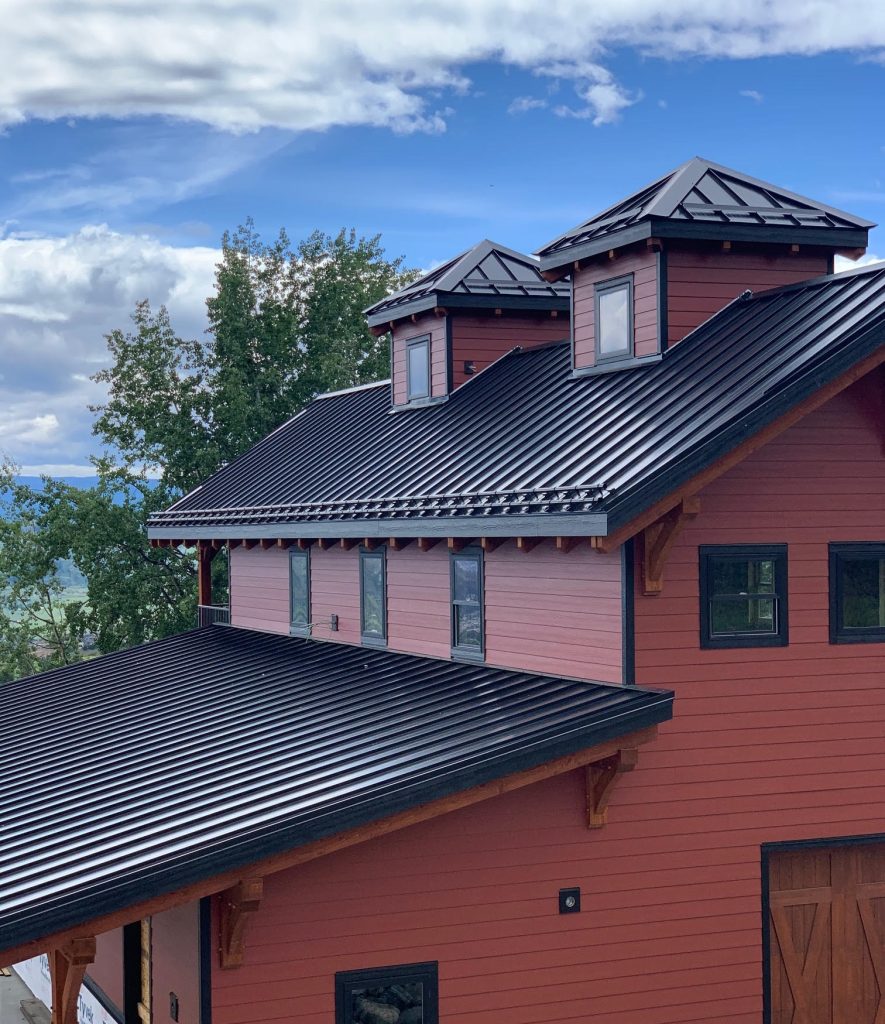 Building Specs:
3,500 sq ft, main floor 2,500 sq ft, upper 1,000 sq ft. Roof 6,000 square feet, 8/12 upper roof
Garage Doors: Cloplay Corporation Canyon Ridge steel/composite
Foundation: Slab on grade concrete in-floor hydronic heating (natural gas)
Roof: New Tech Machinery SSH SS150, 20" on center, 1-1/2" high rib, 24-gauge Cascadia Metals Black SMP Standing Seam with Cascadia Metals insulation
Trusses:
King Post trusses with struts
Ventilation: Sash windows, awning windows in cupolas
Wall Panels:
Exterior – Hardie Plank
Doors: Home Building Centre Vernon fiberglass, Masonite, Cloplay
Windows: Anderson low-e
Solar & Snow: 90 solar panels (28.35 kilowatts) mounted to the roof using the S-5! PVKIT® direct-attach rail-less solar mounting solution; Snow retention: S-5! X-Gard™ 2.0 snow retention pipe system
Bruce Goode, a retired cattle-ranch owner and airline pilot, purchased an 8-acre equestrian estate with spectacular mountain and lake views in the Okanagan Valley area of British Columbia, Canada. The property features a new multi-purpose barn and outdoor arena, along with his private residence, a hay storage unit and a chicken house.
The spacious main floor will be used as a workshop area with a tack room and riders' lounge. The upper floor open loft area will be used as a "hunting lodge/cowboy shack" themed retreat and entertainment area complete with taxidermy mounts, in addition to a hobby/work area for gunsmithing as well as a workout area.
Project Goals
Bruce's goal was to construct a multi-purpose building made of fire-resistant materials since the property is located within a forest interface area. He wanted the roof of the barn to serve as a mounting platform for a 28.35-kilowatt PV solar system to provide 100% of the electricity needs for the entire equestrian ranch property. After consultation with the solar installer, the ridge line of the building was oriented exactly due east/west, which affords maximum solar gain for the direct-attach 90 solar panel system mounted on the south-facing upper roof and lower roof surfaces.
The 24g Cascadia Metals Black SMP Standing Seam Metal Roof together with the S-5! PVKIT direct-attach, rail-less solar mounting solution helped him to achieve his goals. The PVKIT enabled solar installers to direct-attach PV modules to the standing seams, eliminating the need for a traditional rail mounting system, and provides a simple, secure, economical and penetration-free method for attaching solar modules.
Bruce also wanted to reduce the risk of sudden and unexpected release of snow, potentially posing a serious threat to family/friends and property below. He discovered the S-5! X-Gard ™ 2.0 pipe snow retention solution to meet his needs.