MSS ENGINEERING, LLC
The building is a public space for exercise and community events. The owner was an ER nurse who was always bothered that patients often didn't have good exercise habits, healthy lifestyles, etc. They started doing a 10,000-step program and realized there wasn't a place in Albion, Indiana to exercise. They wanted a gym with an elevated track so people could do the 10,000-step program and participate in various activities at the same time.
A plot was donated with 5 acres and a small barn, in addition, they built a gym for the community. They made use of all their materials and resources by establishing a learning, recreational and community center.
An unusual challenge was to ensure that the hanging running track would be properly supported. The builder worked with the truss manufacturer to ensure that was the case.
Builder: Jeremy Reiff Construction, Inc.
Building Size: 72' x 104'
Roof Pitch: 4/12
Doors: LT Siding, multiple
Fasteners: GRK RSS Screws, standard nails
Foundation: Perma-Column 8" Pier Footing
Insulation: Ramco, Cole Insulation, R-Value Insulation, foam, Double Bubble, mineral fiber
Posts: PC8300 3-ply 2×8, 4' oc
Roofing: Ramco Ram Panel, 28 ga.
Trusses: Borkholder Buildings and Supply
Ventilation: Depew Heating and Plumbing
Wall Panels: Ramco Ram Panel, 28 ga.
Windows: LT Siding, 36" x 48"
Special Feature: Track suspended from ceiling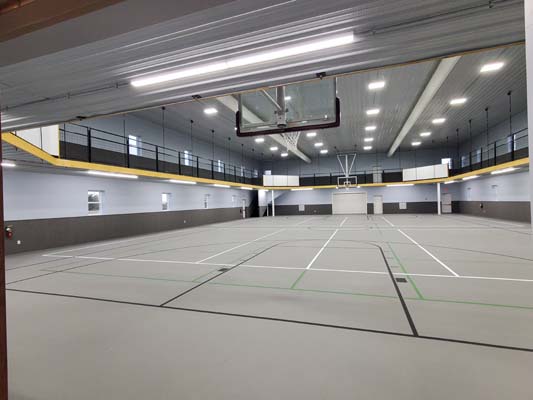 By MSS Engineering, LLC