Martin Construction Co.
The purpose of the new building was to replace an old post & beam building in poor repair. The customer wanted to replace the existing building with a new structure that would be aesthetically pleasing and match the surrounding buildings. Martin's Design team came through with providing the appropriate design and exterior coverings to satisfy the customer's requirements.
The project included demolition and clean-up of the old post & beam building, which had a stone foundation. (See inset photo.)
Due to the slope of the site, the project required a partial-poured concrete footer/retaining wall.
Builder: Martin Construction Co., Fleetwood, Pennsylvania
Building Size: 20' x 30' x 10'
Roof Pitch: 8/12
Doors: Haas #942 overlay style 10' x 8' with Liftmaster; Plyco Series 20 Steel Entry Door
Fasteners: SFS Intec wood grip siding screws
Foundation: Partial poured concrete/Perma-Column Sturdi-Wall Plus column anchors
Posts: RigidPly Rafters, Green Post, 3-ply 2×6
Roofing: DaVinci composite slate shingles, 12" wide, Slate Gray
Trusses: RigidPly Rafters, 20' span, 24" oc
Ventilation: Cobra under-cap ridge vent
Wall Panels: Metal Sales Manufacturing Classic Rib, 29 ga., MS Colorfast 45 paint
Windows: Simonton ProFinish, 4'w x 4'h Twin, 2'x3' single hung, vinyl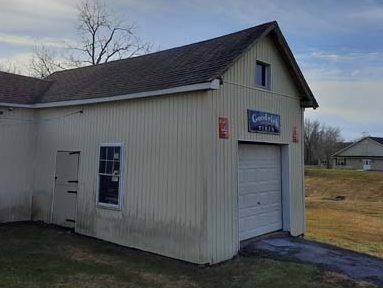 By Martin Construction Co.