Triangle Fastener Acquires Fastener Business Segment of CSS
Triangle Fastener Corporation announced that as of July 1 it had acquired a segment of the Connective Systems & Supply, Inc. business that focused on fasteners for roofing, metal building, and mechanical contractors in and around Denver. CSS has been a leading provider of fasteners and products to construction industry professionals since its founding in 1985. This segment of its business is supported by approximately 20 employees in two locations who achieved $15 million in sales in 2022.
"The acquisition of CSS aligns with TFC's plans for long-term business growth by developing branch locations in the western United States and expanding our catalog of proprietary TFC-branded products," TFC said in a statement. "In addition to the pending opening of a location in San Antonio, Texas, the integration of CSS assets will bring us to a total of 27 US locations, and a marked increase in our presence in the central and western United States."
Triangle Fastener Corporation was founded as a single location in 1977 in Pittsburgh and has established more than two dozen locations and three distribution centers across the US.
Malco Products Names Rebecca Talbot as VP/Marketing
Malco Products, one of the nation's leading solution developers and manufacturers of a variety of high-quality tools for the HVAC and building construction trades, announced that Rebecca Talbot has joined the company as its new vice president of marketing.
Talbot comes to Malco with a broad base of marketing accomplishments and professional experience, including positions at DeepRoot Green Infrastructure, Resideo (Honeywell) and Lakeland Companies. She holds a bachelor's degree from Metro State University and a Master of Business Administration degree from Georgia Southwestern State University.
Talbot will succeed Nancy Gunnerson, Malco's director of marketing, who recently retired after a 34-year career with Malco. "We are very excited to welcome Rebecca to our team, and also wish Nancy a wonderful retirement after an incredible 30+ year career at Malco," said Rich Benninghoff, president and CEO of Malco Products.
Alside Survey: Why Do Homeowners Replace Windows?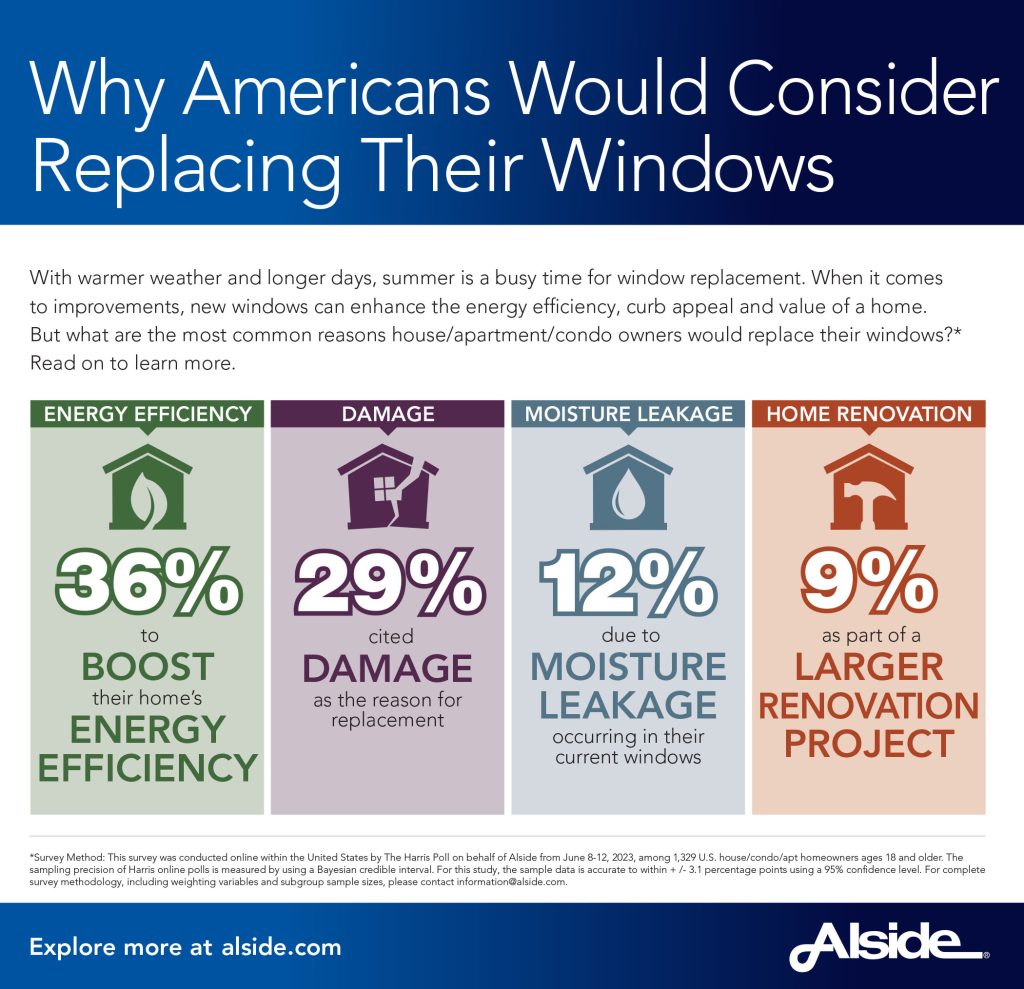 A brand of Associated Materials, Alside commissioned a national survey, conducted online by The Harris Poll, to learn the most common reasons house/apartment/condo owners would consider replacing their windows, along with other valuable insights into the window purchasing experience. The survey polled more than 1,300 house/apartment/condo owners across the United States.
Topping the list of reasons they would consider replacing windows is to enhance energy efficiency (36%), followed by damage (29%), moisture mitigation or leakage (12%), part of a larger home renovation (9%), alleviate ongoing maintenance needs (6%), and aesthetics (5%). House/apartment/ condo owners only had a slight difference of opinions among the four regions of the United States (Northeast, South, Midwest and West).
Enhancing energy efficiency was the top contender that homeowners selected to save costs and reduce their carbon footprint. However, one age group did not agree with the majority: nearly half of 18- to 34-year-olds (45%) said damage was the No. 1 reason they would consider replacing windows.
The survey also asked house/apartment/condo owners how they would choose a contractor if they were considering replacing windows. Word-of-mouth/family or friend recommendation and best price (each 28%) tied for the top spot, followed by high rating online (22%), product selection or brands available to them (14%), and advertisements or other promotions (4%). Males and females, however, did not agree on the top quality that drives their contractor choice: females lean more toward word-of-mouth recommendation, while the best price drives males' purchasing decision (33% and 27%, respectively).
Lakeside Construction Fasteners Promotes Velliquette to President
Lakeside Construction Fasteners, Inc. announced the promotion of Eric J. Velliquette to President. Eric has been with Lakeside Construction Fasteners for 10 years, during which time he held the position of Vice President Sales & Marketing.
Before joining Lakeside Construction Fasteners, Eric had previously worked as the Vice President of Sales and Marketing for Atlas Bolt & Screw Company, a Marmon Holdings Inc. company, one of largest fastener manufacturing-distributors in the USA servicing the metal building industry. During his tenure with Atlas, Eric earned an MBA and selected as an adjunct professor at Ashland University's College of Business, located in Ashland, Ohio.
In partnership with owners John and Kyle Lane, Eric has forged continuous growth at Lakeside Construction Fasteners by providing the metal building industry with alternative product solutions, keeping quality a focus, and working to develop long-term customer relationships. Kyle Lane, CEO of the Lakeside Group of Companies, welcomes Eric into his new position. Kyle Lane, CEO, stated "he is confident LCF will continue with a strong future, poised to reach even greater heights under Eric's leadership."
Timbera Creates Timber Digital Marketplace for Construction
Established to transform the timber industry in a sustainable manner, Timbera has just been introduced to the market with the aim of connecting buyers and sellers on a global scale. The new brand provides a digital marketplace for all professionals in the architecture and construction sector.
From sourcing and purchasing to compliance and financing, the all-in-one platform offers a comprehensive set of services including advanced search tools and a chat room where each buyer and seller are able to interact directly.
"The origin of Timbera arose from the clear identification of the complex obstacles currently faced by the timber industry within the international framework, whether in terms of transactions, transparency of information, or delivery times," said Tomás Costa Leite, Board Director of Timbera. On this single platform, he said, professionals can "find an accessible, responsible and efficient way of marketing timber. It is our belief that this is the future of the industry."
Timbera grants buyers access to a wide network of verified products and suppliers to deliver high-quality services based on secure and environmentally responsible transactions. For sellers, it offers, among other benefits, an extended reach, assuring market visibility on a global scale.
Timbera is the latest business area in the Vicaima Group, which has over 850 employees and operates in over 50 countries.
US LBM Builds Massive Truss Manufacturing Facility in Florida
US LBM, a leading distributor of specialty building materials, has opened a new floor and roof truss manufacturing facility and building materials yard in Auburndale, Fla.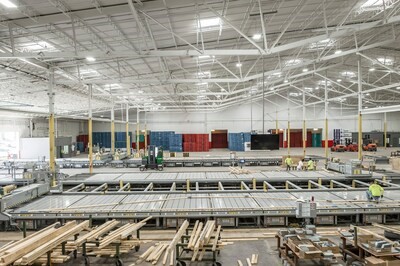 The new, more than 100,600-square-foot facility is located 40 miles northeast of Tampa and 60 miles southwest of Orlando and operates as part of US LBM's Raymond Building Supply division, which serves professional builders across Florida. In addition to operating three roof truss lines and one floor truss line, the new location also supplies residential and commercial builders in central Florida with a range of materials, including lumber, engineered wood products, cabinetry, windows, custom millwork, and exterior and interior doors.
The Auburndale location is Raymond Building Supply's third truss facility in Florida; the division of US LBM also operates manufacturing facilities in North Fort Myers and Miami. US LBM has added 15 component manufacturing facilities through acquisitions and greenfield expansions over the past year.
FastenMaster Celebrates 25th Anniversary
FastenMaster is celebrating 25 years of providing professional building contractors with products and fastening solutions. Established in 1998, FastenMaster created the category of structural wood-to-wood screws with the introduction of TimberLOK, a heavy-duty wood screw designed to eliminate the need to predrill when attaching two pieces of wood together. It was the first of what has become the "LOK Line" of structural wood-to-wood fasteners for residential applications.
FastenMaster is a division of OMG, Inc., which has over 600 employees globally, and more than 400 in Western Massachusetts. OMG operates manufacturing plants in Illinois and Minnesota and produces over 1 billion fasteners each year. FBN