There are a lot of different materials and products that go into building a post-frame agricultural building. Here, we'll take a closer look at some of those products — from top to bottom. In some cases, you'll learn about specific products available from manufacturers, and in others, you'll learn more about what products "do." 
IMPORTANT NOTE: Information varies among products – don't read into what's not there. For example, when reading about two similar products, one manufacturer may include warranty information while another does not. If warranty information is not present, it does NOT mean the product does not have a warranty. Contact the manufacturer or your supplier for complete product details.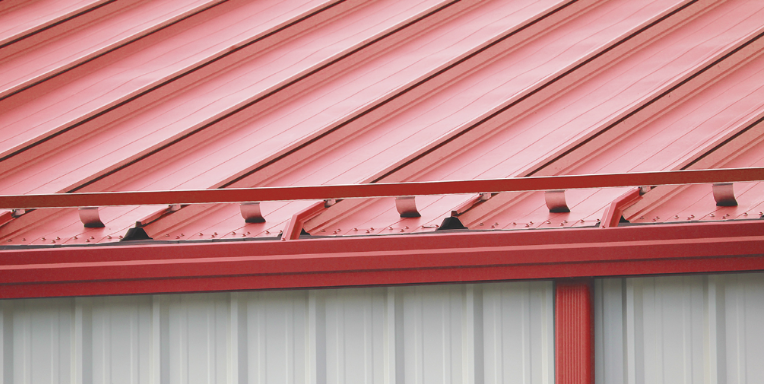 Starting at the Top
AG-CO cupolas and weathervanes are made with ease of installation and low maintenance in mind. Cupolas are made of weather-resistant, high-density polyethylene and come in only two pieces. Each cupola base is molded with 3/12, 4/12, and 5/12 roof pitch lines to ensure the cupola fits at the proper angle. The base may be cut to any pitch up to 8/12. The company's weathervanes are handcrafted from 14-ga. steel. They are finished with a durable and scratch-resistant powder coat, then a clear coat that is baked on for additional protection. [www.ag-co.com]
Snap-Z manufactures standing seam metal ridge roof vents. The Snap-Z 1000 is made to fit 1" standing seam ribs; the Snap-Z 1500 is made to fit 1½" standing seam ribs; the Snap-Z 1750 is made to fit 1¾" standing seam ribs; and the Snap-Z 2000 is made to fit 2" standing seam ribs. The ridge vents are pre-cut and pre-drilled. They also offer ridge vents with pre-applied butyl tape to further speed installation time.
Standard Snap-Z ridge vents are made of 26-ga. steel in black. However, they are also available in colors in 24-ga. steel or .032" aluminum in black or colored. [standingseamroofvent.com]
The EZ Vent-N-Closure is a water tight metal roof ridge vent with a built-in foam closure for use in metal roofs with standing seam, R-panels, ag panels, and corrugated panels. Standard vent closure sizes range from ¾"-2", with custom sizes available.  [ezventnclosure.com]
MWI Components offers specialized products for customers in the post-frame building industry. The company manufactures a full line of low- and high-profile ridge vents for post-frame buildings. The RV35 and RV35F Ridg-Vent® models, which are both low profile and rise only 4 ½" above the ridge, are designed to provide the ventilation required for horse, cattle, and poultry buildings (among others) when used in conjunction with an equal area of vented soffit or louvers. Additionally, the RV35F includes a clear fiberglass rain diverter, which acts as a skylight along the ridge for extra natural lighting. The company utilizes patented "klix-on" flashing that snaps on without the need for tools and fasteners. MWI Components also hems all metal edges for added strength and easier handling. [www.mwicomponents.com]
ProfileVent®, manufactured by Ventco, is a strong, long-lasting single-layer ridge vent on a roll with a modified polyester fiber-based matting that is non-woven and non-wicking. The material is Class-A fire rated and is designed specifically for metal roofs. The ridge vent comes in rolls of 20', 50, and 100' lengths, and is profiled to fit more than 50 standing seam and through-fastened metal roofing panels. It fits under any ridge cap and any pitch of roof from 2/12 to 20/12. ProfileVent features glue spots to prevent slipping during installation and it carries a limited lifetime warranty. [profilevent.com]
Dynamic Fastener's DYNA-FLASH® pipe flashings for metal roofs are designed for maximum resistance to all weather conditions. The pipe diameters can be seen clearly for proper fitting. The base is designed to mold to most panel configurations and roof pitches regardless of pipe location. EPDM flashings are available in 12 colors: Brown, Black, Dark Grey, Light Grey, White, Dark Green, Light Green, Dark Blue, Light Blue, Bright Red, Terra Cotta and Copper. High-temperature silicone flashings are available in Red and Grey. [www.dynamicfastener.com]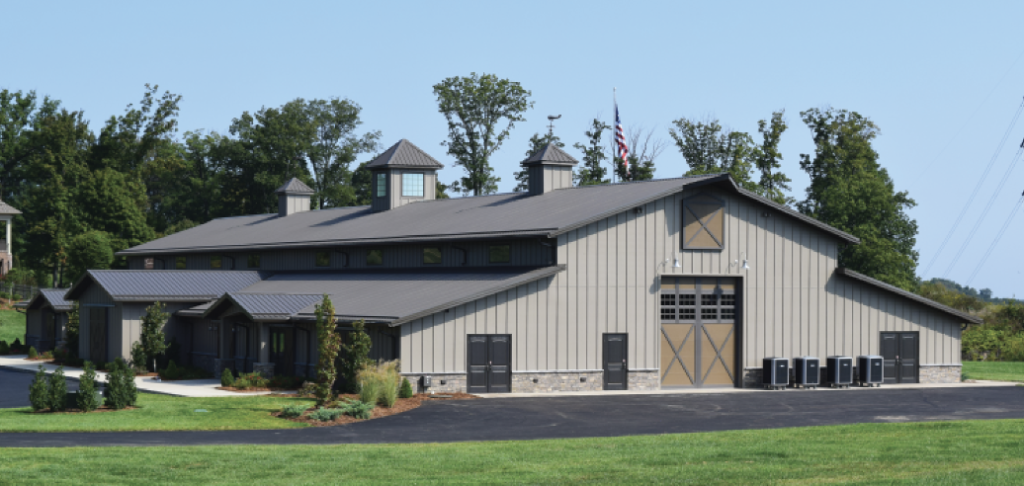 Snow Stoppers LLC manufactures components for both standing seam and exposed fastener metal roofs. SSG Classic snow stoppers are designed for standing seam roofs. The components are made from 11-ga. 304 stainless steel and are attached to the roof seam with two stainless set screws with hex heads.
The company's RMG Premium snow stoppers for exposed fastener roofs are made from 14-ga. stainless steel. They are fastened through the roof panel with three of the same screws that are used for fastening the panels themselves (1 ½" washered screws recommended). The RMG Premium snow stoppers are equipped with a rubber sticker on the bottom to cover the screw holes so everything is sealed off (no caulking or additional sealant is needed).
Both SSG and RMG stoppers have a 3½" tall profile and are powder coated; there are 25 standard colors with custom colors available. [717-598-0312]
Dynamic Fastener's Dyna-Guard® snow retention system is designed to be used on virtually any style metal roof. It is an 8' long extruded aluminum rail with a T-shape profile and is installed by attaching non-ferrous clamps or mounts to a metal roof and bolting or screwing the system to clamps or mounts. Thirteen Dyna-Clamps® with round-point stainless steel set screws and Sno-Dams® are also offered. Sno-Dams attach to the back of Dyna-Guard and inhibit snow and ice from sliding underneath. Dyna-Clips® are available as a Dyna-Guard to Dyna-Clamp connection device when using unpunched Dyna-Guard. A 2" wide painted strip of metal from the same material as the roof is inserted in the Dyna-Guard for aesthetics. [www.dynamicfastener.com] 
MWI Components manufactures solid soffit, center-vent, and full-vent soffit panels, as well as the steel trims needed to finish the soffit system. The 12" center vent panel provides 7.5 sq. in. of free area per foot, while the 12" full vent panel provides 15 sq. in. of free area per foot. Panels are also available in 24", providing twice the amount of free area per ft. (15 and 30 sq. in., respectively). Soffit panels are available in prepainted steel or aluminum. Precut lengths of 12", 24", and 144" are standard; however, special cut lengths are also available in sizes ranging from 7" to 144".  [www.mwicomponents.com]
The Lam-Ply Truss, manufactured by Starwood Rafters combines plywood, glu-lams, and dimensional lumber. The Lam-Ply Truss, which is stronger than a conventional web truss, can span up to 72'. The added strength allows the builder to space the trusses further apart, and the solid design also limits bird nesting. Agricultural applications include, but are not limited to, machinery storage, livestock facilities, and horse arenas. [starwoodrafters.com]
MB-10A from GSSI Sealants is an elastomeric butyl rubber sealant designed to seal the lapped seams of exposed metal panels and the end seams of standing seam metal roofs. It also meets or exceeds all sealing requirements for window glazing. The sealant is extruded onto silicone coated paper for ease of use. GSSI produces it in many different sizes and lengths to fit all application requirements. When applying butyl rubber sealant, all surfaces to be sealed should be clean and free of dust, dirt, oil, moisture, grease, etc. before applying tape. [www.gssisealants.com]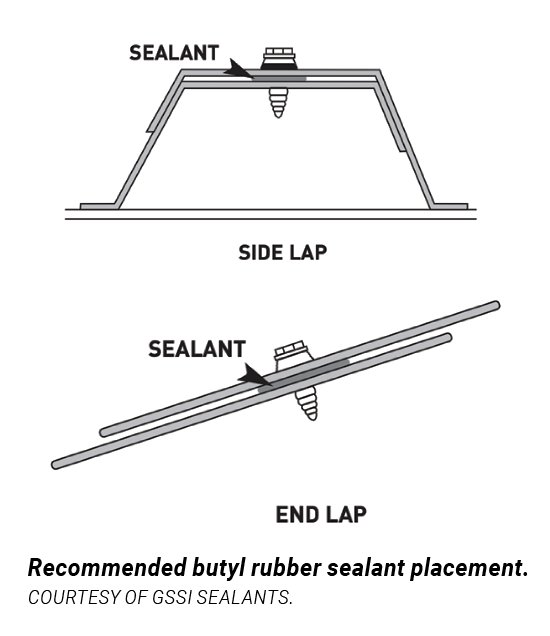 Panels
Applied during the metal forming process, DripStop is an anti-condensation membrane that also protects the steel panel by adding a layer of protection from the corrosive elements found in livestock confinement. Specially designed air pockets trap and store condensation and release it back into the air as humidity, thus preventing "rain" inside the building.
DripStop's Tony DelGhingaro pointed out the benefits for builders: "For builders, it saves time and money by eliminating one step of the construction process. As a bonus, it is also safer. Plus, owners have a maintenance free product that is both mold and tear resistant, while reducing sound effects." [www.dripstop.com]
Graber Post Buildings, Inc. manufactures a Board & Batten panel that requires no painting, sealing, or maintenance. The panel is rolled from 29- or 26-ga. steel and is available in 28 color options (22 flat colors and six textured colors). The panels are coated with the AkzoNobel CERAM-A-STAR 1050 paint system, which carries a 40-year paint warranty. Each panel, which is available in either a flat or embossed wood texture, provides 10" of coverage with 8" rib spacing. [www.graberpost.com]
Hixwood Metal offers three distinct profiles: Super-Rib 100 with the 9" OC rib profile, Residential 100 with the 6" OC profile, and Snap-Loc 16" profile.
The company offers the 36" wide exposed fastener panels in three gauges: 29 ga., 28 ga., and 26 ga., as well as the Snap-Loc (non-exposed fasteners) in 24 ga. and 26 ga.
All the panels are available in the BeckryTech and the BeckryTex paint systems with a total of 35 colors available (20 smooth) and (15 textured).
Custom trim is made to spec on their two state-of-the-art Thalmann 21' twin-bend long folders. The company carries a huge inventory of stock trims which are available for immediate customer pickup. Materials come with a 40-year warranty with the best color retention available in a Highly Durable Polyester. [www.hixwoodmetal.com]
Union Corrugating offers many exposed fastener roof and wall panels for post-frame (and other) buildings. The company's MasterRib® panel is available in either 26 ga. or 29 ga.; the profile features extra-wide stiffener  ribs to increase strength. The panel also features an extra-large siphoning channel on the under-lap rib to provide extra leak resistance in the presence of extreme wind and rain loads. MasterRib is available in 20 paint colors, meets all IBC, Miami Dade and FL Building codes in addition to unpainted AZ55 Galvalume and unpainted G90 galvanized. All 29 ga. and 26 ga. painted panels carry a 45-year pass through warranty with no set back requirements at the sea coast. [unioncorrugating.com] 
McElroy Metal offers 30 different metal roof and wall panels in 20, 22, 24, 26 and 29 gauge. The company offers its own standard trims; additionally, many customers have their own trim designs that are programmed into and fabricated with the McElroy equipment.
McElroy uses Sherwin-Williams coatings and offers more than 60 standard colors. Coatings include Polyester, Silicone Modified Polyester and PVDF. Warranties, which cover fade, chalk, and film integrity, follow the performance of the coatings. PVDF has the best warranty. [www.mcelroymetal.com]
Direct Metals Inc. offers many polycarbonate and PVC panel options, including profiled and flat monolithic translucent panels. Profiled panels are available in 1.0mm, 1.5mm, and 2.0mm thicknesses. Custom panel profile-matching technology is available, where DMI can create a custom translucent panel using your CAD drawing (minimum orders apply). All panels are co-extruded with UV protection. [www.directmetalsinc.com]
Onduline North America manufactures TUFTEX Master Series brand polycarbonate and PVC panels, which are available as daylighting and wall/ceiling liner solutions in agricultural and other post-frame buildings. Panels are available in 9" OC ag panel and 12" OC R panel profiles (38" wide, 36" coverage, lengths from 2½'-24'). [www.us.onduline.com/pro]
Palram's SUNSKY® corrugated polycarbonate sheets are impact-resistant and high light transmitting panels for skylight, sidelight and roofing applications. Standard thicknesses available include .8mm (.032"), 1mm (.039"), and 1.5mm (.059"). Other thicknesses are available with minimum order quantities. The SUNSKY panels are available in hundreds of profiles and match most existing metal profiles. If a custom profile is needed, the manufacturer can match nearly any metal profile using its MetalMatch technology. [www.palram.com/us]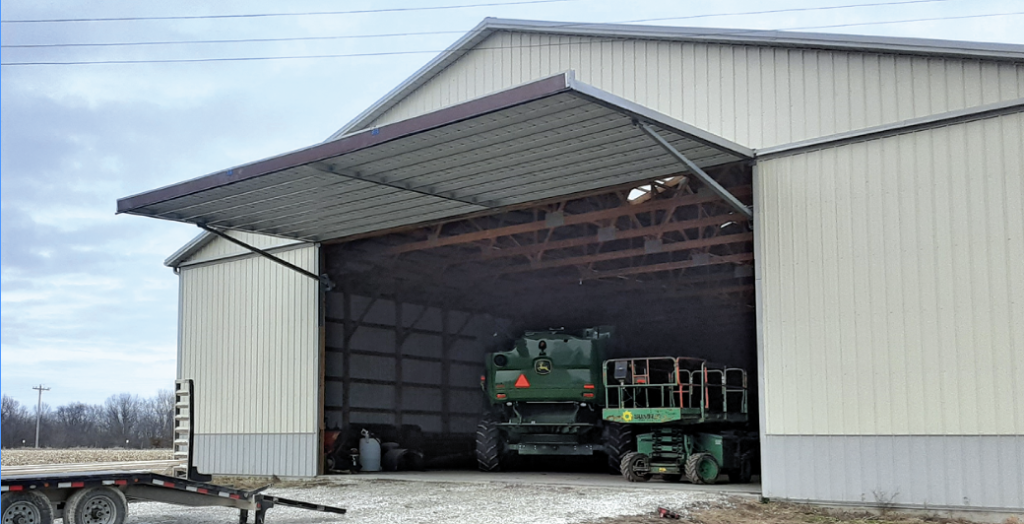 Windows & Doors
Plyco recommends its Commercial Thermal Break (CTB) sliding window for agricultural and light commercial use. The windows are constructed of a fully thermalized aluminum frame with standard insulated glass (CTB series) or LowE glass (CTBE series). Plyco windows are specifically designed for the metal-clad building industry and tested to rigorous third party testing requirements. For example, CTB500 horizontal slider meets the LC-PG30 performance standards (as tested to AAMA/WDMA/CSA101/I.S.2/A440-17). The CTB/CTBE windows are available with a Polar White, Hickory Moss, Bronze, or Brown polyester paint finish in horizontal slider fixed, vertical single hung, and fixed lite functions.[www.plyco.com]
A.J. Manufacturing builds Main Street Vinyl™ (MSV) windows in white. Trim options include a nailing fin, 1" J-channel, or patented EZ-v™ trim and flashing. The windows can be made with clear insulated, low E insulated, or single glazed glass. Single-hung MSV windows are available in sizes 24×36 – 36×60; single slider MSV windows are offered in sizes 36×24 – 60×48; and fixed lite/picture windows come in sizes 24×24 – 48×48. [www.ajdoor.com]
Plyco offers the most comprehensive door program for the post frame industry.  The 95 and 20 Series are industry proven multi-purpose doors. The 95 features a kerf frame, while the 24 has a heavy duty panel. The 85 series combines those benefits into a unique door.  For customers needing a high R value, the 92 series features a thermal break frame and door.  Although many Plyco doors are third party tested for structural strength and air and water infiltration, the 92 is also tested for thermal properties and achieves an industry leading "total assembly" R value of 3.17 (NFRC 102-10). Other types of doors have aluminum or steel frames, and then steel, aluminum or fiberglass doors skins based on end use requirements.  Most doors are available in four colors (Polar White, Hickory Moss, Chocolate Brown, and Bronze).  Stainless steel hinges are typically standard and an alcryn high performance three-fin top and bottom weather seal stays flexible in extreme temperatures. Plyco's supplemental hardware options make the door offering almost limitless.   [www.plyco.com]
Pre-hung interior PVC doors are among the products Extrutech Plastics, Inc. manufactures. The doors are made with a smooth, flat 1 ¾"-thick PVC door panel and solid PVC frame with a weather strip sealed edge in standard or custom sizes. They are made for use in high moisture or corrosion-prone areas where other types of doors just don't last. The doors resist mold, mildew, fungus, chemicals, pollutants, and other hazards. [https://epiplastics.com]
I-Beam Sliding Doors manufactures sliding doors from 8' x 8' up to 60' x 24'. (Custom sizes are also available.) I Beam uses a 6,000-lb. capacity trolley and track system. Door kits are delivered to the desired location with all the necessary hardware. Frames are all delivered precut and pre-punched. The door and frames are constructed of lightweight aluminum I-beams that are designed to fit openings up to 48' wide by 20' high. Components are all ASTM E330 wind test certified (rated to withstand wind speeds of up to 115mph). [http://ibeamdoor.com/]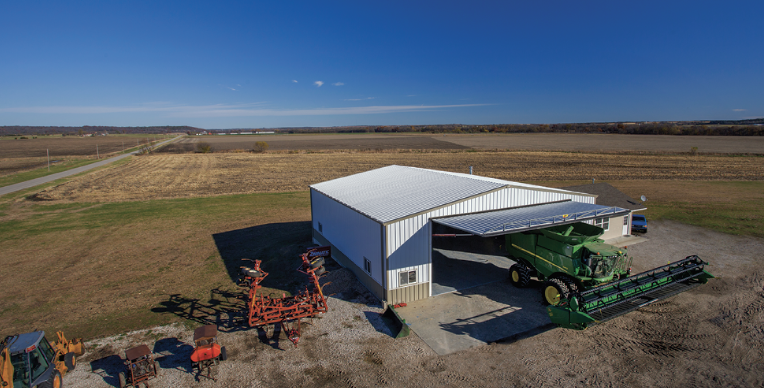 Schweiss Doors custom builds all its doors to any size. Bifold and hydraulic doors 100 ft. wide and even up to 60 ft. tall are not uncommon. The company custom designs and builds every door. Doors are built with all-steel 2×3, 14-ga. members with shop-welded connections. Hydraulic door frames are pre-hung inside their own sub-frame on all Schweiss doors.
There are two mounting choices: "flush mount," which mounts below or under the building header (you sacrifice some headroom with this method), or "exterior mount," where no headroom is lost. Gray primer paint is standard on Schweiss doors. However, they can be custom painted or powder coated. [www.bifold.com]
Liner Panels
Palram's AG-TUF® corrugated PVC liner panels are chemical-resistant, maintenance-free panels for interior cladding of agricultural structures. AG-TUF UV is designed for corrosive environments and outdoor applications. Both are available in standard thicknesses, including .8mm (.032") and 1mm (.039"). They are available in standard Greca and 9" profiles. Other profiles are available with minimum order quantities. [www.palram.com/us]
Extrutech Plastics (EPI) manufactures PVC wall and ceiling liner panels for agricultural applications. EPI's P2400 wall panel is 24" wide for walls; the P1600 panel is 16" wide for walls and ceilings; and the P1300 panel is 12" wide, also for use on walls and ceilings. All have a tongue and groove design with a nailing fin along one side for quick installation with no exposed fasteners. The panels have a bright white finish and do not support mold or mildew. [https://epiplastics.com]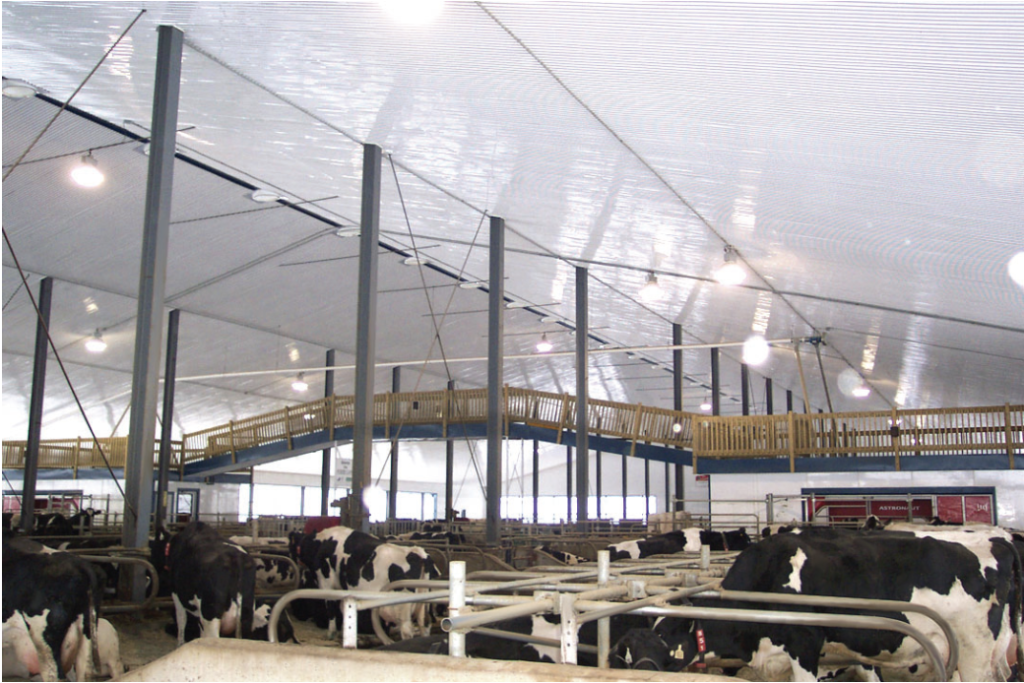 Insulation
Covertech's rFoil 2500 Series and 2600 Series of metal and post-frame building insulation consist of a layer of polyethylene bubble boned to and sandwiched between a radiant barrier metalized foil and a white polyethylene sheet with washable UV-resistant facing. The 2200 Series is a layer of polyethylene bubbles bonded to and sandwiched between two radiant barrier metalized foil sheets. Both series block 97 percent of radiant heat transfer and prevent interior condensation. [https://rfoil.com]
MWI Components' Infinity Shield™ foil insulation is offered in standard rolls of 4' x 125' Single Bubble Foil/Foil, Double Bubble Foil/Foil, Single Bubble White/Foil and Double Bubble White/Foil. They manufacture a no seam 6' x 125' roll of all the available SKUs. Their foil insulation features a standard crushed edge tab (2") that results in simplified overlapping. Infinity Shield won't compress, collapse, or disintegrate, and the ultra-white bubble — a result of additives throughout all layers of the bubble — provides an opaque finish. [www.mwicomponents.com]
Hershey's the Metal Meister Hitz Halter insulation is manufactured from virgin materials, is coated with 3MIL poly film on both sides, and is treated with termiticide to deter termites and ants. It doesn't waterlog, and it doesn't compress under concrete, so it maintains its R-value.
It's mold resistant and suitable for all below-grade insulation installations, including basement and wall insulation and radiant heating applications (PEX tubing is fastened directly to the insulation panel with plastic staples). The insulation comes fan folded in 4' x 24' sections and quantities are shipped shrink-wrapped on 4' x 4' x 8' skids with runners, which are forklift- and storage-friendly. [[email protected]]
Frame & Foundation … and More Trusses
Rigidply Rafters manufactures structural components for post and timber-frame construction. The company produces glulam treated posts, metalplated roof and floor trusses, glulam arches and beams, tongue and groove and V-groove decking, and offers a complete line of post-frame building materials. Among its services, Rigidply specializes in wide-span trusses, complicated roof systems, and over-sized width and/or length configurations.
Rigidply manufactures structural glue-laminated, finger-jointed posts with CCA-treated bases and untreated tops (standard). Standard stock sizes include 3-ply 2×6 (5 ¼" x 4 1/16") in standard lengths of 8'-36'; 3-ply 2×8 (7" x 4 1/16"), standard lengths of 10'-36'; 4-ply 2×6 (5¼" x 5 3/8"), standard lengths of 10'-36'; and 4-ply 2×8 (7" x 5 3/8"), standard lengths of 12'-36'. Other post sizes are available upon request; posts can be manufactured in lengths up to 60'. [www.rigidply.com]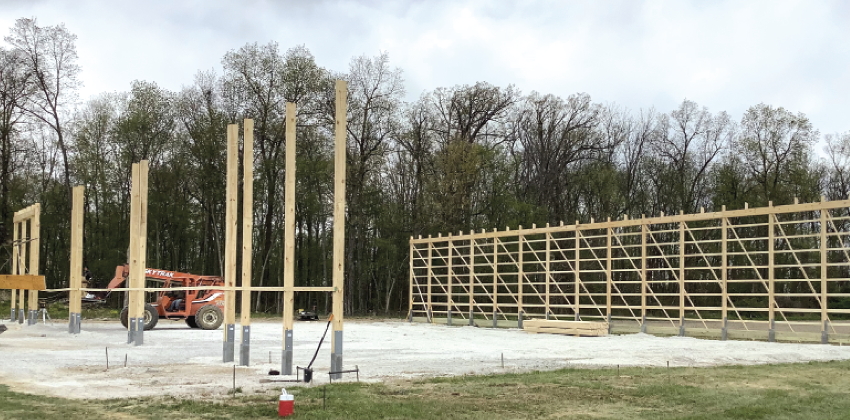 Richland Laminated Columns manufactures glu-laminated columns that are stronger, lighter, and straighter than solid sawn posts. They also manufacture nail-laminated columns. Ground contact ends are treated with CCA before lamination; Richland glulam posts are also available fully treated, as well as fully untreated. Using untreated wood above ground decreases the need for galvanized fasteners. Stock sizes are 3-ply 2×6, 4-ply 2×6, 3-ply 2×8, 4-ply 2×8, 5-ply 2×8 and 2×10 columns by request. Stock lengths up to 36 feet; up to 50 feet by request. [812-798-1178]
The #1 pushback against pole barns is the wood post foundation in direct ground-contact. Post Protector eliminates the ground-contact and keeps the benefits that make post-frame great — simplicity, affordability, in-ground strength, DIY friendliness, and value. It's a simple "belt & suspenders" approach: Chemical protection envenoms wood fiber, so decay-fungi don't feed (rot); Post Protector is a simple slide-on physical barrier so decay-fungi never have access to the wood.  [www.postprotector.com]
Plasti-Sleeve is a clean-fitting, slide-on plastic sleeve that provides economical protection for in-ground posts. Made of polyethylene plastic, Plasti-Sleeve protects posts against decay-causing organisms and moisture. They come in more than 20 specialized sizes.
The same company offers Plasti-Skirt, which is a heavy-duty U-shaped plastic cover for skirt boards in post-frame construction. It acts as a barrier between corrosive treated woods and metal trims and siding. It also protects the skirt board from decay, concrete, moisture, animal waste, and other corrosive elements. [www.plastisleeve.com]
PlanetSaver Industries developed GreenPost process to create an impermeable double barrier that keeps the wood treatment chemicals inside the wood post and moisture and pests away from the wood. The double barrier consists of a water-based asphalt emulsion plus a layer of polyethylene, which is heat cured.
PlanetSaver also offers a polyethylene sleeve that can be applied by builders to posts sourced elsewhere. It's as stable as the wrap that's applied to the GreenPost. The wrap is only applied to the area of the post that will be in the decay zone. "Once you put the post sleeve on, you don't have to worry about the post destabilizing because of rot. The only thing you have to worry about is what happens to your post above the ground," said PlanetSaver's Barry Hoffman. [www.planetsaverind.com]
By getting the wood out of the ground, Perma-Column precast concrete columns, Sturdi-Wall anchor brackets, and Sturdi-Wall Plus anchor brackets eliminate the need for treated lumber columns. All Perma-Column products are ICC-ES certified to meet the International Building Code and the International Residential Code.
"One way to grow [the post-frame] industry is to provide ICC certification for our products so builders can work with the assurance that Perma-Column products meet national and international code requirements while consumers can feel more confident in their post-frame investment," said Perma-Column president Mark Stover. [www.permacolumn.com]
FootingPad is a composite isolated footing system that has been designed to replace concrete footings beneath load-bearing posts. Made from a proprietary composition of engineered polypropylene (100% recycled) and fiberglass, the footing pads are molded with a rib pattern that effectively transfers the weight carried by the post to the supporting soil beneath the pad.
Paul Kluempers, General Manager at AG-CO, the company that manufactures FootingPad footers, explained, "By expanding the surface area the pad carries more load. The pad works because it's stronger than the soil."
FootingPad footers are lightweight, strong, and won't rot or degrade. "Our footers are made from an inert material. There's very little change over time with the product. In general, it's resistant to any kind of environmental impact. Microbes and moisture in the soil are not going to break it down. It will last for a very long time."
They are made in five different sizes: 10", 12", 16", 20", and 24", with the three larger sizes most frequently used for post-frame buildings. [https://footingpad.com]
Fasteners: Putting It All Together
Maze Nails offers a large assortment of post-frame nails, all of which are made of high-quality materials, leading to fewer bent nails, and fewer popped heads. Maze Brite Ring Shank Post-Frame Nails, which provide excellent holding power in treated posts and timbers, are available in lengths ranging from 2 " to 8". [www.mazenails.com]
Direct Metals Inc. manufactures the DMI #12 diameter SCAMP 304 SS cap for attaching exposed-fastener metal panels. The #12 diameter provides increased holding strength versus traditional #10 diameter fasteners. The 304 SS cap and 304 SS bonded washer provide lifetime protection against red rust. The shank is coated with DMG85 corrosion resistant coating and it has been listed by Dade County as an acceptable solution for use in coastal applications. The Type 17 point is effective in OSB and other low density wood substrates. Powder coat paint is available in standard industry colors. A metal building self-drilling version is available for metal to metal applications. [www.directmetalsinc.com]
The ZXL™ MB™ WoodBinder® metal to wood fastener from ST Fastening Systems will drill multiple thicknesses of steel commonly found in metal roof ridge cap applications. The drill point design consistently penetrates metal panels, which eliminates the need to punch the panel with a sharp point to start the drilling process. Zinc plating and clear chromate are standard on all of ST Fastening Systems' metal building and post frame building screws. The EPDM washer fits into the ZAMAC zinc aluminum alloy molded head. Available in 35 standard colors that match high volume metal panel paint colors. [www.stfasteningsystems.com]
What Do You Recommend?
These are just a "few" of the products frequently used in agricultural post-frame structures. If you have a favorite product, we'd love to hear about what the product is and why you recommend it. Mail comments to Karen Knapstein, C/O Frame Building News, PO Box 255, Iola, WI 54945 or email [email protected]. FBN