Problem #1: Financing for post-frame homes and how to extend a building's life
As the popularity of post-frame homes increases (including shop/house combos), one obstacle that keeps customers at bay is securing a fixed-rate mortgage for this type of building. Loan officers at both small and large banks often don't have much experience with these economical homes, and when they hear "post frame," they may kick your customer to the curb—potentially losing the sale for you. It's important for builders to be aware of this problem their customers may face and know how to solve it. What was once a very common issue now has relatively easy solutions.
What Are the Challenges?
Old-school bankers still hear post frame and think of it as a metal box designed to last 15 years max. However, due to the ingenuity of building package manufacturers, designers, and builders, post-frame homes are all the rage. So how are these beautiful designs made to last longer?
Most large building suppliers do not offer their own financing options, so it comes down to you and the customer to sort this out. Danielle Scott with Morton Buildings stated, "Most of our customers end up working with a local bank that they have a relationship with. We request [the homeowner] get prequalified for a post-frame home construction loan through [their] lender first to best determine any budget parameters and their loan options. Financing for post-frame homes can be a challenge…Banks, and more specifically appraisers, do not consider post-frame construction a conventional method for building homes in most cases."
Scott continued, "A recommended down payment of 40% is highly suggested to overcome this potential obstacle. It is important that your bank understands the type of home you are building and who you are working with. It is also important to tell them if you plan to use steel siding and roofing. Depending on the bank, this may impact the term or rates you receive. Although financing can be a bit more challenging, we have found that with a little effort and involvement that favorable financing can be secured." Simply put, obtaining appropriate financing and preparing a construction site are critical first steps.
As a sidenote, if the post-frame building is a secondary structure and not the primary residence, many people choose to utilize a home equity line of credit to finance the build.
Go With the Pros
Several building suppliers recommended discussing the issue of financing a post-frame home with New Century Bank, so we did just that. The Kansas-based financial entity covers nearly all bases of non-conventional home loans, including "modular, true log, system built, SIP panel, cabins, timber frame, post and beam, post frame, pole barns, shouse or barndominiums, shed homes, and regular site built." According to company President Alan Lierz, New Century began offering modular home loans about 20 years ago, and have expanded their focus to include post frame and other unique home types over the last 7 years. They have been able to make post-frame residential home mortgages equal to or better than those for other conventionally built homes. As New Century began offering loans and second mortgages for barns and other post-frame structures, builders began asking for residential post-frame mortgages for their customers. This portion of their business grew from that point and continues to expand.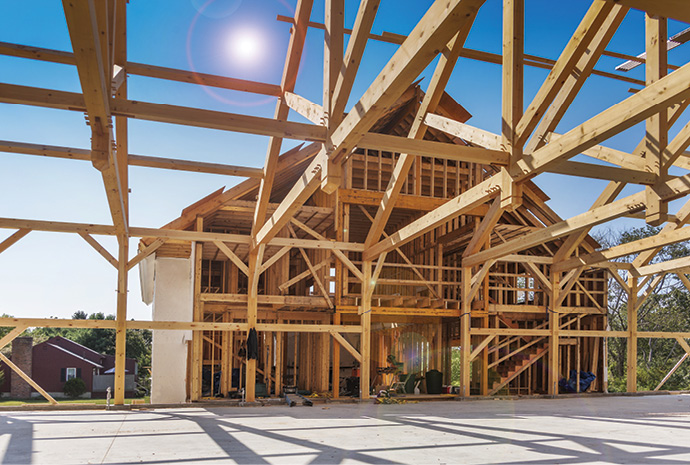 Through their own ingenuity, New Century Bank has made fixed-rate residential mortgages available to post-frame residential homes. As Lierz casually puts it, these builds are "just a house with an oversized garage." He continued, "We have leveled the playing field for the post-frame industry with Fannie Mae (FNMA) mortgages." As long as the build passes the local and county-level residential codes, this source of fixed-rate mortgages opens up.
How did they accomplish this? By innovating and creating a simple list of structural requirements to be approved and passed through appraisals and underwriting departments, provided below:
1. Need concrete in the ground (the Perma-Column® system qualifies). According to Mark Stover of Perma-Column, to qualify, "a builder will be required to install a concrete foundation below ground and wood post above ground. This foundation is commonly referred to as a Perma-Column foundation system. It's the only patented precast concrete solution in the market. And It's ICC-ES Certified (ESR-4238). Which meets IRC standards." Graber Post Buildings shared, "I do know with the help of products such as Perma-Column (a product that we use a lot of), it certainly has made the financing process [of post-frame homes] easier."
2. The standard percentage of livable versus non-livable space in an average house is 70% living, 30% garage. For a post-frame "shome" to qualify through New Century, the standard is 50% livable, 50% non-livable (under the same roofline). If a customer wants to build a workshop, they won't be held to the same requirements as long as it is a separate structure.
3. While the homeowner can do limited finishing work (such as painting, installing some cabinetry, etc.), it is important that the majority of the work and build is bid out to third-party contractors. So as not to drag the build on too long, they are given a 12-month time frame to complete the project.
These are important requirements because with the low down payment for construction lending, many more clients will become eligible for mortgages than ever before. This means post-frame residential construction may even have advantages over other types of residential construction due to better financing.
Problem #2: Extending the Post-Frame Life Span
Regardless of how your customer is financing their build, there are important considerations to extend the structure's potential life. Gone are the days of simply putting posts in the ground and hoping for the best. Post-frame buildings are not "throwaway" structures and can be built to stand the test of time.
Before reviewing the options, we first must understand what exactly rot and decay are and how they occur. Ken McDonnell with Post Protector shed some helpful light on the topic: "Most folks think moisture causes decay. Moisture doesn't cause the decay; moisture is a condition that's needed for decay to occur. The conditions are moisture saturation of wood fibers, oxygen, and a temperature range between 40 and 100 degrees. When these conditions exist together, microorganisms from the soil want to use the wood fibers as their food. Moisture doesn't eat wood fiber, microorganisms feed on wood fiber."
He continued, "These microorganisms [were put] on the face of the earth with one job. And that is to recycle the nutrients of dead plants back into the soil. And what do we build with? Dead plants, right? The framing materials are essentially dead trees. To combat this, we pressure treat the wood. It's a pesticide to poison the wood fiber to stop the microorganisms from feeding on it. But the chemical protection doesn't last forever.
"You have varied absorption and retention of the chemical treatment from pole to pole to pole on your job site. Not every pole is going to have the identical longevity performance. Then you also get splits and cracks in the wood that expose internal non-treated material. You now have leaching chemicals, varied retention and absorption, and cracks that can and do open up the door to the microorganisms. My product, Post Protector, simply is known as barrier protection by the chemical preservative manufacturers."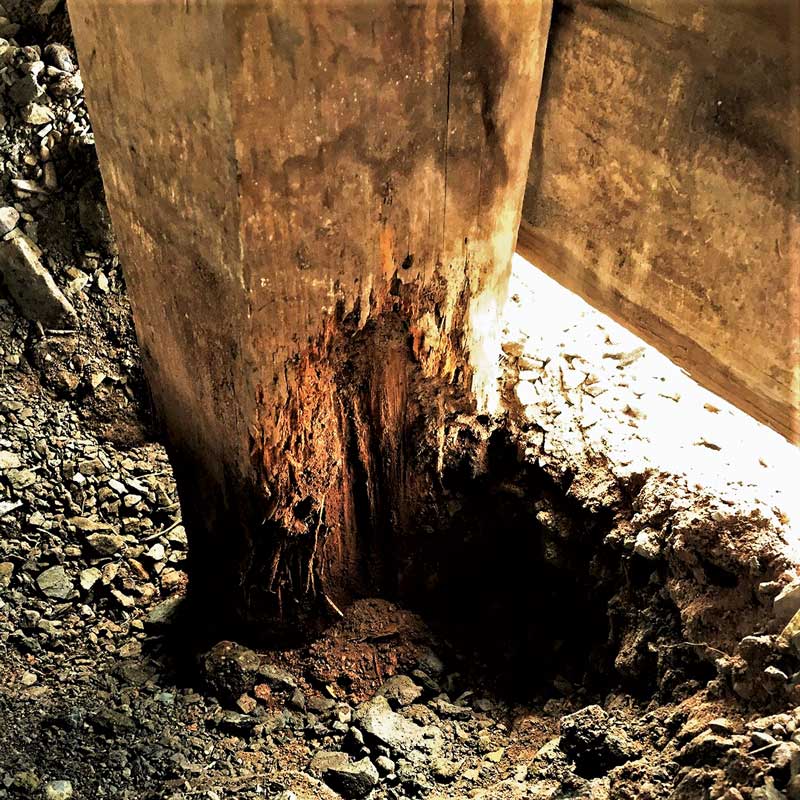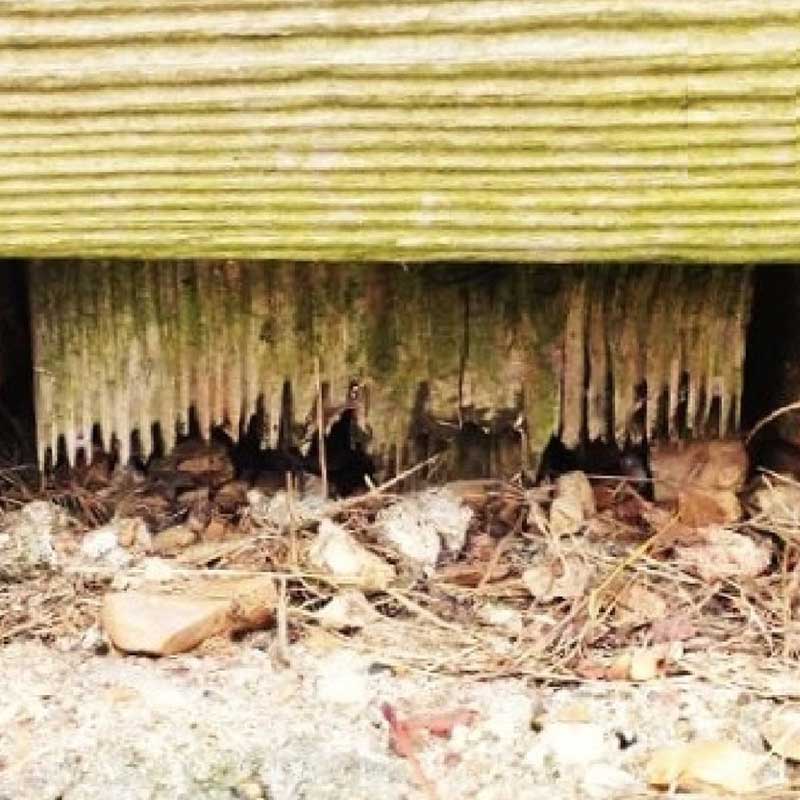 Now that we understand what exactly causes posts in the ground to rot and decay, let's look at options to solve and prevent this: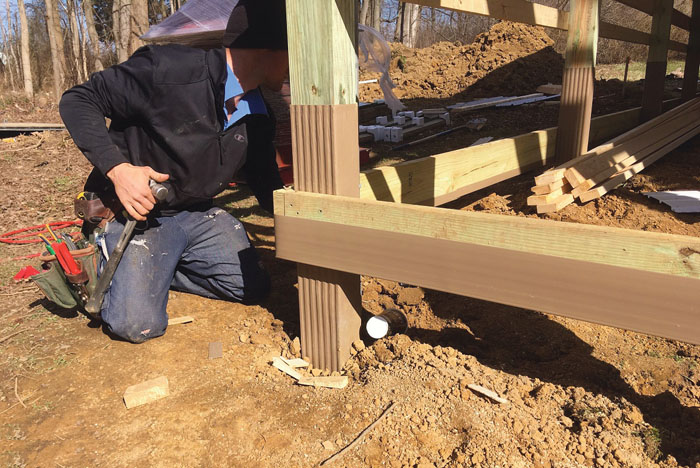 ■ POST PROTECTOR: Post Protectors are made of a specialty high-density polyethylene, the same material used to manufacturer landfill liners. Simplicity is an alluring feature of its slip-on system, a complement to post frame. Post Protectors come in all post sizes and can be easily field installed. They are a clay-tone color with wood-grain texture and can be trimmed to the desired height. In more conventional foundation systems, a footing and frost wall, footing and basement wall, or pier and bracket system serve the same purpose of separating the wood from ground contact. Post Protector also offers the Skirt-Board Protector, which is 8′ 3″ long and comes in the same color and material as the Post Protector.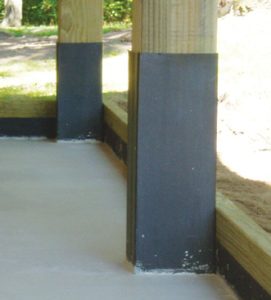 ■ PLASTI-SLEEVE: David Gruhlke was the first to patent a device to protect wood posts from the decaying effects of ground contact for post-frame buildings. Experience led him to the invention. Plasti-Sleeve is a one-piece square-molded form that is sized to fit a particular column.
"It retains a lot of all of the traditional methods associated with post frame that has made it a popular form of construction over the years," Gruhlke said, adding "[Such as] the ease and quickness of construction. And it retains the continuous column from the footing to the truss connection. That's a basic element to post frame that has made it popular over the years."

■ GreenPost: Elmer Sensenig, owner of Richland Laminated Columns, describes how GreenPosts are made: "We spray the bottom 5′ [6′ for special order] with a thick layer of spray—a pitch—before we wrap it. This serves two purposes: it serves as an adhesive to hold the wrap on, and it serves as an extra layer of protection. If [the wrap] gets damaged on the job site, there's a second layer of protection." The standard sprayed wrap goes 5′ up from the bottom because posts are typically buried up to 4′. The extra foot of wrap extends beyond the critical ground point where decay is likely to occur.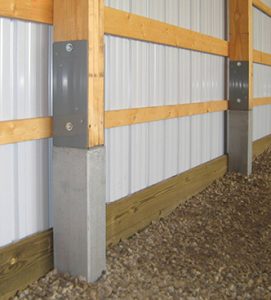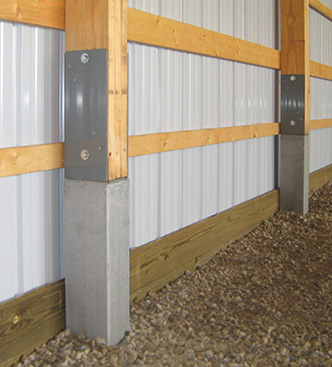 ■ PERMA-COLUMN: Perma-Column is one of the most significant break-throughs in the industry. It is a patented combination of steel, concrete, and wood elevated out of the ground. Perma-Column precast concrete columns have been on the market since 2003. They are made with 10,000 psi precast concrete and reinforced with 60,000 psi rebar, making them three-times stronger than standard concrete. Perma-Column precast piers are hefty, weighing in at 165 pounds for a standard 3-ply 2″ x 6″, but are sure to last for generations and generations. FBN