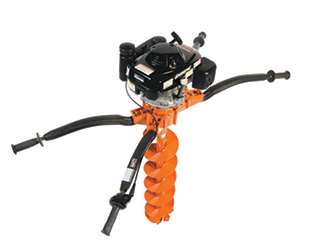 Two-Man Hole Diggers
General Equipment Company has introduced its 332H and 348H EPIC™ Series two-man hole diggers. Featuring 5.5-horsepower (4.1 kW) Honda GXV160 four-stroke engines, the new models are capable of digging holes up to 18" (457mm) in diameter. They offer an ergonomic design and heavy-duty construction to handle a wide range of construction-related hole digging projects, from simple backyard fencing to more complex landscaping or soil sampling jobs. Like other hole diggers in the EPIC Series, the 332H and 348H product designs raise the bar for performance, ease of use and safety.
The new, ergonomically engineered Power-FLEX™ composite operator handles are exclusive to the EPIC Series, providing maximum control, strength and balance during operation, while dampening vibrations. The handles reduce kickback and fatigue to increase operator comfort, productivity and jobsite safety.
The hole diggers also include a new Auger-LOK™ feature for conveniently removing stuck augers. The Auger-LOK uses a spring-loaded actuator to lock the auger in place so that operators can simply twist the auger out of the hole. This practical solution eliminates costly damage to hole digger and auger when using other removal methods.
www.generalequip.com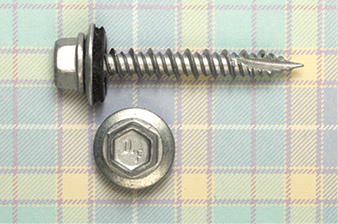 Dynamic Fastener Releases New Lengths of Hi-Lo Fasteners
Dynamic Fastener has added additional lengths to partner with their very popular 12-16×1-1/2" T-17 Hi-Lo fastener. Lengths are now available in 2", 3" and 4". All lengths are available with a T-17 point, Hi-Lo threads and a 5/16" hex washer head. This screw is used to attach up to 18 gauge sheet metal to wood. The fastener can also be used to plug a previous #9 or #10 pole barn screw or any time a slightly larger fastener is desired. The screw is available with or without a 9/16" outside diameter sealing washer. It also comes standard with Dynamic Fastener's Dyna-Coat® 1000-hour salt spray premium coating.
www.dynamicfastener.com

POWERLAGS® Truss Screws
Altenloh, Brinck & Co. US, Inc. has announced the immediate availability of a new addition to the line of SPAX® POWERLAGS® Engineered Fasteners. SPAX® POWERLAGS® truss screws are designed for use in attaching truss/rafters to wall plates for ensuring a building code required continuous attachment method from floor to roof
The new product is a #14 x 6-1/4" fastener that includes patented SPAX® features:
• T-STAR plus drive within a cylindric head
• Patented thread serrations
• A unique 4CUT™ point for quick and easy installation with no pre-drilling required.
"Our new construction fastener is made of carbon steel with SPAX® exclusive WIROX™ coating which is ideal for interior framing use. The truss/rafter fasteners will be packaged in a Contractor Pax™ 50 count carton ready for retail shelves and will include a 2" long T-30 plus bit," said Eric Ashack, SPAX® Product Manager.
https://spax.us/products/powerlags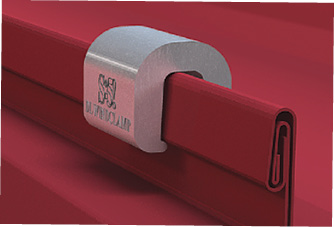 WindClamp 2X for Metal Roofs
S-5!, an authority on metal roof attachment technology, has introduced its newest addition to its line of WindClamps™, designed to increase wind resistance for standing seam and other concealed-fastened metal roofs.
The new WindClamp2X, as with all S-5!'s WindClamps™, are small aluminum clamps placed over the roof's seam at designated intervals to prevent male-to-female seam separation and/or seam separation from the roof's mounting clip. S-5! WindClamps are a cost-compelling alternative for new construction and can also be used in retrofit applications to bring older roofs into compliance with current codes and wind standards.
Attaching these simple, yet highly-tested clamps to a roof's seams have proven to dramatically improve wind uplift performance. S-5! WindClamps increase – and often double – wind resistance, preventing multiple modes of failure, including seam separation and clip disengagement when used at roof clip locations. This clamp-to-seam technology has been a highly cost-effective solution to preserve rooftops in some geographic regions and/or roof "zones" with increased probability of extreme wind uplift conditions.
www.s-5.com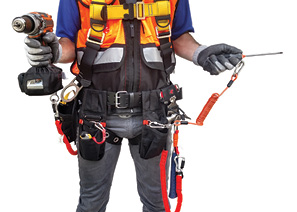 Tool Tethering Kits
Stronghold by PSG® introduces three all-in-one, tool tether trade kits.
The all-in-one kits include a full suite of products, available in three neatly bundled designs exclusively for specific trades, to prevent tool drops from at-height work locations, onto people and infrastructure below. The kits feature Stronghold's innovative tethers that connect tools to wrists, belts and other anchors, to eliminate drop hazards. Coils, bungees and swiveling premium tethers that prevent tangles while handling tools in use, no matter which tool attachment is used, are featured in the kits. The kits incorporate the new ANSI/ISEA 121-2018 for Dropped Objects Prevention Solutions wherever the standard applies and are aimed at eliminating the guesswork of purchasing proper tool tethering supplies.
www.puresafetygroup.com FBN