By Anthony Brass
Lifting trusses into place comes with a unique set of challenges. The proper equipment remediates these challenges.
Hydraulic trucks, telehandlers, boom truck forklifts or cranes can all get the job done. If you are tasked with truss placement, you want the machine hoisting the truss to be as precise as possible. As contractors and builders, it helps to get the perspective from a crane expert, especially if you are operating one.
Challenges Hoisting Trusses
When operating a self-erecting tower crane to lift a truss, selections of the height underhook – the distance from the ground to how high the building is going to be – is crucial.
"That's going to vary because you need to leave about 25 ft. below the hook where you're rigging, in the span of how long your truss is going to be, so it can pick it up safely and evenly and move it across the area of the jobsite," says David Polce, regional business manager of Manitowoc-Potain tower crane products for the eastern and southern US.
He says crane operators need to consider the size of the truss or panel and the conditions outside. "You want to factor in the wind that is going to be pushing against that object you're moving," Polce cautions. He adds crane operators are always looking at the size and type of the truss, panel or wall for safety reasons. Some pieces are determined as "fully dressed," which is a solid object, or as "open," where wind can pass through in between its parts.
"We measure the panel (or truss) size in meters squared, and look at how far it's being moved across a certain area, which is the radius, and the width," Polce says. "We then take that into consideration, and we have like a 'tic-tac-toe' (noughts and crosses) chart in our manuals that shows you at what wind speeds you can safely move that panel to where it needs to be." He adds this practice — using load charts for crane-user safety recommendations —works as a guide for lifting both panels and trusses, and that it's the biggest metric to look at.
Take measures to prevent trusses sailing away from a crane. "Everyone thinks it's the weight that's the biggest concern. When (the truss) starts sailing away from you, and it starts swinging or even trolleying, that, with the force of the wind, can take the crane and lift you off your foundation and tip over." He cautions you don't want the load taking control of the crane, instead of the crane controlling the load.
Selecting Cranes & Operators
Smaller, self-erecting tower cranes are suitable equipment for post-frame construction. They maneuver well, are easy to operate, and have a suitable radius. Top-slewing cranes are more suitable for larger jobs with their ability to hoist heavier loads and distribute them to multi-story structures.
Polce says self-erecting tower cranes can handle longer, larger, heavier trusses. "Trusses can be very heavy, upwards of 70-80 ft. in some of these larger post-beam and post-frame construction projects now," he says.
Experience matters when selecting crane operators. But first these individuals should be certified by the NCCCO (National Commission for the Certification of Crane Operators). The NCCCO developed the Mobile Crane Operator certification program (CCO). These operators must complete required training, and then pass a written exam and practical timed course with the crane.
Solving Truss Challenges with Cranes
Polce says using self-erecting tower cranes to hoist trusses completes these tasks faster, and they are more efficient. But the challenge, he says, is coordinating which builders get the crane and when. He says it's important the general contractor factor in a self-erecting crane as part of the bidding process to take full advantage, and reap cost and time savings, of using this type of equipment to manage the whole job. He can control who uses the crane, and when. In doing so, he can keep track of how the work is progressing.
Polce reiterates smaller cranes work on post-frame projects. Many jobsites require working in tighter spaces with limited room for truss-lifting machinery. "That's the benefit of using the tinier cranes; you can put these in tight places." Polce adds operators can put these cranes into those smaller spaces and reach the backside of the where trusses need to be placed.
Compact cranes makes them ideal for framing homes in residential neighborhoods or in remote areas with limited yard space. "The benefit is that these stand right beside the building and [hoist and jib] goes up and over instead of a mobile hydraulic boom truck or where it has to "square it out" and reach at an angle."
Examples of the specs on some of these versatile, smaller self-erecting tower cranes include: 54 ft. in total length; a jib length at 89-94 ft.; a height underhook of 67 ft. with 30 min. to set up; another crane includes a 73-ft. height underhook, 92 ft. of jib; and others at 45 ft. long when folded; or other cranes with a maximum height of 98 ft.
These "mini-cranes" can complete truss lifting and placement for two side-by-side houses at the same time without moving. Multiple configurations on the cranes give the operator more lifting options to place trusses of varying sizes and weights into place. In addition, these are "taxi cranes," Polce calls them, that can lift A/C units as easily as larger trusses, performing three to four jobs a day completing homes or apartment complexes.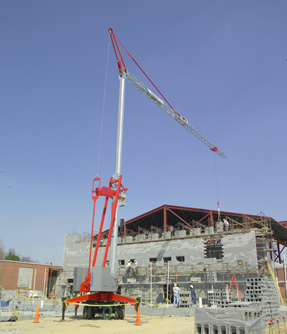 Some larger post-frame home projects take longer to build. Polce says it's more cost-efficient to use a small self-erecting tower crane to lift trusses, as these can just stay on-site. Other lifting equipment must be driven back and forth from the jobsite over the period of days or weeks for longer post-frame builds, which increases costs. "Some of these log homes out West in Montana and Colorado are bigger and take longer."
Placing these cranes in the correct spot on-site affects truss completion times. Once these are positioned in place to maximize their reach, they don't have to be moved to another spot to hoist and set the next piece. "If you look at the job from the beginning and study the placement of where the crane will be, and hit all areas of the jobsite, you will make your job more efficient the whole day," he says.
Polce says using cranes to hoist trusses make your jobsite safer. Many use telehandlers to place trusses in pole barn frames with workers helping on scaffolding. "These buildings are 80' to 100' and they put them up very rapidly," Polce says, adding this kind of combination is not the safest when lifting trusses into place. "You're putting in one truss after another. I've talked to many pole barn builders and the disadvantage they say is that they're not very high up, usually one story." He adds they're then driving that telehandler down 80-100 ft., and there may be no integrated counterweight to distribute weight evenly for balance. This safety feature is designed and built into many small, self-contained or self-erecting cranes with these movements while hoisting in mind. The telehandler is moved often to reach another area where the next truss goes in. The smaller cranes have greater reach and don't have to be moved, so the hazard of moving machinery around several times is eliminated.
Polce says the crane becomes the centerpiece of a post-frame job and a contractor can eliminate the use of several telehandlers or other heavy-lifting tools. "The crane 'runs' your jobsite for you." These may be controlled remotely too for even more convenience. The operator on top of the building is free to move, setting the trusses in and putting loads down. The crane can place in other materials before the trusses are ready, staying steps ahead to increase efficiency and finish a post-frame structure faster.
Conclusion
Using self-erecting tower cranes in post-frame construction is a viable option for lifting trusses safely and accurately. Compact machines are available that can provide maneuverability and enough lifting capacity to place these framework components efficiently. FBN