By Frame Building News Staff
Many years ago, if you were to ask a group of people to picture a post-frame building, most would envision a relatively plain, rectangular structure with simple metal walls and a ribbed metal roof. Buildings with that exact look were common for agricultural use for decades. Now, however, with post-frame sales shifting gradually toward residential, the options for exterior building design are expanding.
With this design expansion comes an array of roofing choices. While post-frame homes (or "shomes" as they are now often called) can be topped with a standard asphalt shingle roof, today's options for metal roofing are seemingly limitless. Gone are the days when the only question was, "Do you want exposed or hidden fasteners?" While that is still an important topic to discuss with some roofing types, contractors must stay on top of the trends and know what the options are. Your customers can even select metal shingles that mimic the look of slate, shake, or clay tile at a fraction of the weight.
Standing Seam Metal Roofs
The standard roof choice for post frame has long been standing seam metal panels. Often paired with steel siding systems, these panels are available in a wide variety of colors, profiles, and even textures. Each has its benefits and can provide a unique look.
The well-known pros of a standing seam metal roof include its longevity and resistance to the elements. When building a home (or barn), customers don't want to wonder how soon they'll have to replace such a costly piece of their building. The benefits of metal roofing according to North Star Metals, manufacturers of metal roofing and siding, also include: aesthetics, weather resistance, life expectancy, strength, fire ratings, maintenance, installation, weight, lower lifetime cost, cost-effective application, and the fact that they are environmentally acceptable. That final advantage has become a big selling point in today's push to "go green."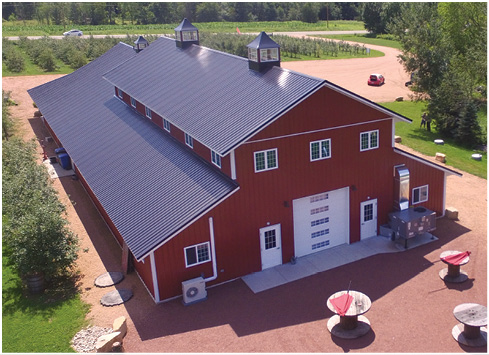 Previously touted as being a more expensive roofing option, this argument can be dismissed with an understanding of the lifespan of a metal roof versus other options on the market. Excellent consumer-directed content can be found on the Metal Roofing Alliance's website, www.metalroofing.com. According to the Alliance, "While the initial cost of a quality metal roof is higher than roofing materials such as asphalt, it's an investment that pays returns over a lifetime. A metal roof can last up to 50+ years or more with little maintenance, can often be repainted versus replaced, and may even increase the resale value of your home." A lifespan of half a decade, including limited maintenance, should make this option an easy sell! Everlast Roofing, makers of several metal roof profiles for post-frame residential and agricultural buildings, shared: "To put it in context, the average lifespan of an asphalt roof is 12 to 20 years. That lifespan can be shorter depending on the pitch of your roof and the climate in your area. Made of oil-impregnated paper or fiberglass, asphalt begins to deteriorate as soon as you expose it to normal weather. A metal roof, however, will never decompose."
With each type of standing seam metal roof, don't let your customers be swayed by appearances alone. Coating types, metal gauges, and warranties are all very important factors to consider when making their choice. Some colors and types are even Energy Star-qualified for solar reflectance, with potential tax incentives available to the end user.
Metal Shingles
Compared with standing seam options, metal shingles are relatively new to the market. Like their counterpart, they also offer weather resistance, a long lifespan, and a variety of style and color options (with varying warranties available). If your customers are resistant to the look of traditional standing seam panels, they may be open to metal shingles.
Boral Steel offers varieties in their stone-coated steel roofs that look (rather convincingly) like asphalt shingle, shake, and clay tile. All of these options offer durability and performance while stylishly protecting the structure beneath. Boral Steel sums it up with a simple statement: "The roof is your home's first impression." And this couldn't be more true. If your customer wants a more traditional residential look for their post-frame house, the lifespan and protection offered by steel shingles is hard to beat.
Additional Options
Once your customer chooses the roofing type, whether standing seam, metal shingles, or asphalt, it's time to discuss the accessories available on the market. Many roofing manufacturers also offer trim and gutter systems in coordinating colors and profiles. Depending on the location of the property, snow guards might also need to be considered. These snow retention systems can be found in many colors to match the roof, with installation methods dependent on the roof type. Check with the roofing manufacturer for snow retention system recommendations.
Used primarily on barns, decorative cupolas and weathervanes can be a nice touch to add to a post-frame home's roof. For a wide selection of cupola options, consult with MWI Components. Their cupolas are available in over 100 standard colors and can be ordered in several sizes, from a modest 24″ wide to a monstrous 66″ variety.
When choosing a roof type for their new post-frame home, try to direct clients toward a curated list of options (while still considering their desires). They may easily become overwhelmed by options if left to search on their own—at the time of publication, a simple Google search yielded close to 1 billion results! FBN