By Anthony Brass
The sliding doors in your project get attention day in and day out. The type of track you install for your client's doors is important. This critical hardware is what makes your sliding doors open and close easily. Your choice of door has to work with the specific type of track. There are many sizes of doors requiring different weight loads.  
You need to know the type, size and material of doors you choose for your client, based on their needs, before selecting the track. You can customize the sliding doors based on size requirements for each project and the client's needs for moving items through. Many post-frame projects will require larger doors for wider openings to bring in machinery or animals. You must present an array of choices and sizes that best fit their needs but also operate well with the track.
Sliding doors are made with many materials besides wood and steel. Lighter materials such as aluminum, provide durability and strength, and are a lightweight option for easier operation. The lighter doors provide less weight and stress on your track. How often the client uses the sliding doors will also affect their choice.
"Everybody wants to keep it as light as they can," says  Tyler Williams, sales manager, Zimmer Metal Sales Roofing and Siding. He adds if it's all steel it's going to be harder to operate.
It's important to remember the steel doors, though sturdy, are the heaviest and will affect your choice of track. Wood is placed into metal sliding doors, which is common and can add weight, but lighter options are popular. Zimmer says the span of the track will be double the width of each sliding door, so its composition will matter.
Substrate Knowledge
The building you're adding doors to may be already complete or in the process of being finished. Doors and track are typically connected to wood, steel or aluminum. All have benefits and drawbacks.
"First, you need to consider the size requirements for the sliding doors," MWI Components Customer Service Manager, Alicia Cahill says. "This will help you determine which framing substrate and track is best for the door/doors' overall weight and size."  
Substrate materials such as wood are light but can warp. "Wood will sometimes want to bow," says Dustin Ingram, director of operations for Sturdi-Built. "If you're in a very humid climate, lumber is going to want to twist." 
Sturdi-Built prefers to use metal. He says is this a superior material that lasts longer as a connection for your door and track. "Our framework of the sliding doors is a 20-gauge steel, galvanized box girt. It aids in the trolleys so they don't prematurely wear out."
He says they do have wood trusses that they can affix the track to. However, the galvanized option is more weather resistant. "They [metal] are tremendously lighter, more true," Ingram says. He adds the metal will not contract or expand as much as one thinks, and not as much as lumber. He says the galvanized box girts don't have these problems.
Square vs. Round 
Round and square track each have advantages.
"Both round and square track provide an aesthetically pleasing look for many indoor and outdoor projects," says Cahill. But the functionality will outweigh the importance of looks.
Square track achieves the "classic, timeless look of older, traditional building designs," says Cahill. However, she adds the square track typically has a lower weight rating than the round track. Heavier, longer sliding doors require higher load ratings.
Square track channels, due to their shape, collect debris over time, making them more high-maintenance.
"A round track has the natural curvature that allows dirt and debris to sift out," Cahill says. The bottom of the track is open. The trolleys attached to the sliding doors are ball-shaped, so when they roll back and forth it aids in cleaning the track out.
The round track provides even load distribution, allowing for increased weight capacity. This track results in an easier gliding action, with less resistance, which can increase the life of the doors. The nylon wheels on a round track also provide a quieter operating system.
Tracking Challenges
Door hardware, especially track, are only part of the solution to preventing future problems. The durability and function of doors can become compromised through high use and Mother Nature. This affects the fit of the doors, exposes design flaws, causes warping, bending, spacing and sealing issues over time. But the installation of the sliding door and its fit will determine how well it works with your track including brackets and rails.
"Common door failures are often blamed on the track brackets, trolleys or track," Cahill says, but "there should be bottom, center and side door retention planned to keep the doors secure from uplift or air exchanges within the structure."
Common issues arise due to improper "complete" door securement. It's the total securement of the door that helps the track and other hardware work in conjunction with doors after heavy use and adverse weather. Cahill stresses the ideal door retention should keep your doors "tight up against the building" to "prevent damage caused from winds."
Securing doors when not in use will also prevent damage. The latch and other closing mechanisms should be properly in place and engaged when leaving. "No track choice will be successful if these measures are not taken into consideration." Cahill adds that standardizing the use of heavy-duty products for all your exterior doors is a good preventative measure against high winds. The hardware, including track, must work with this in mind.
Space between the doors or track can develop over time through use and adverse conditions. Bottom or side guide rails prevent alignment or spacing problems over time and give doors stability during inclement weather. But the sliding doors – even lighter aluminum ones – may need to be adjusted.
The door is adjusted during installation. Gary Lambright, of Silvercraft, manufacturer of sliding doors, hardware and accessories, explains, "We have the trolley bolt; it has a shoulder, so it's an offset bolt where they can adjust the doors." As far as the track goes, he says spacing adjustments are unnecessary.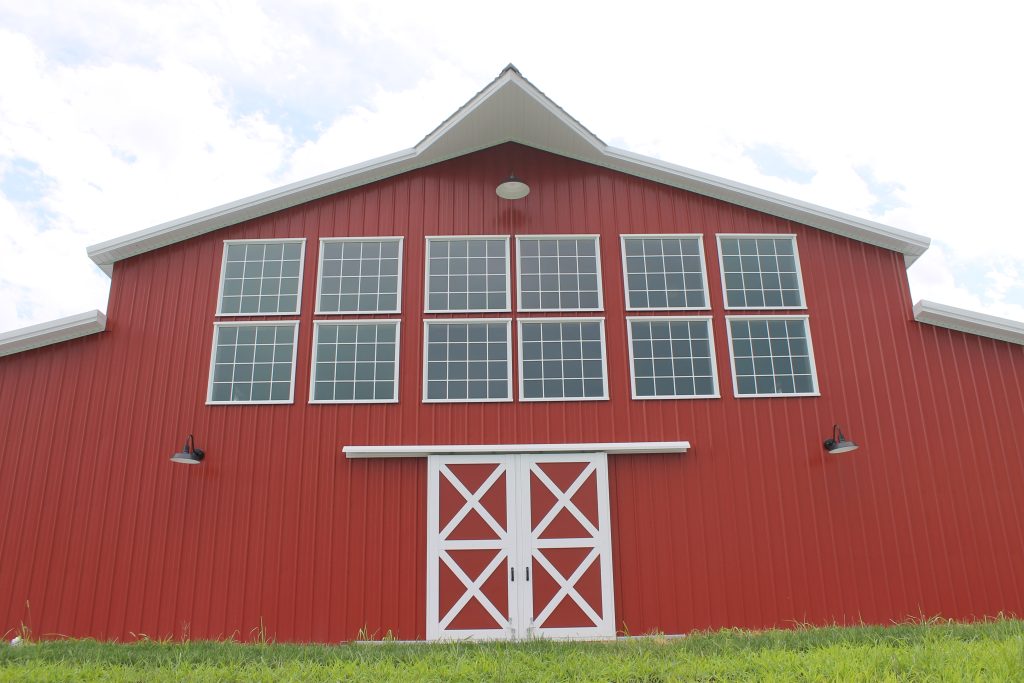 'Flat'-Out, an Option
The flat track presents another option, but may not work for all applications. This track has an open design that is exposed to the elements, which will leave your sliding doors susceptible to premature wear and excessive water exposure.
"On the end of a barn, without a roof over the top, it [flat track] would not be a good idea because you'll get some rain and water infiltration through the top of the doors because you don't have your track cover," Lambright says. "But, under a roof line or overhang or eaves it works great."
If the exposed flat track is requested for outside, the building's roof overhang or eaves must be sufficient to shield this v-groove wheel track system.
Many clients bring the barn door-style into their homes to capture the essence of that rustic motif and to enjoy this trend in popular interior design. But the flat track used on these high-use doors among indoor dwellings, separating room from room, can't always work on your outdoor build.
"The flat track is typically for smaller, lightweight interior doors where space savings is the concern," says Cahill, on the popular choice of track for inside doors.
Your exterior sliding door projects will be a success when you plan ahead and use what's best for the client. It's all about informing each about the requirements for their door track and helping them understand that the right track will work seamlessly with the sliding doors for years so they won't even think about it.  FBN