First Battery-Powered Roller Screed
Curb Roller Manufacturing has announced the release of the Batt Screed 6000, the industry's first battery-powered roller screed. The roller screed operates with no cords, hoses, or fumes.
The Batt Screed eliminates the hassle of working around a cord and the added weight of an engine mounted on the screed. The unit gets its power from a removable and rechargeable 60-volt lithium ion Dewalt FlexVolt battery. Contractors may be familiar with this line of batteries and their versatile use in smaller or heavy-duty cordless tools like hammer drills or cutoff saws. One fully charged battery is estimated to screed off 1,800 to 2,500 square feet, depending on the slump and pipe length. By eliminating an auxiliary power source, the Batt Screed 6000 can be operated almost anywhere. Unlike gas, electric, and hydraulic roller screeds, the Batt Screed eliminates exhaust fumes, power cords, and the need for hydraulic power sources, making it ideal for indoor operation or use in tight spaces. The Batt Screed easily accommodates jobs from 3′ to 22′ with expandable tube inserts, making it highly versatile.
The Batt Screed provides a consistently higher-quality finished product than vibrating screeds or screed boards. It eliminates the need for backbreaking work, providing an ideal solution for contractors who want to get more flatwork done in less time—all with a better, flatter finished product.
Because roller screeds spin the concrete into shape versus vibrating the concrete, larger aggregate, and more of it, remains near the surface of the slab, providing increased structural integrity. Conversely, vibrating screeds use vibration to form the concrete, which often causes the aggregate to fall to the bottom of the slab, leaving the concrete more open to spalling.
The Batt Screed 6000 design includes an adjustable right- or left-hand speed control, variable speed in both high and low ranges, and a three-position handle that allows for a more ergonomic operation for operators.
The multi-position handle gives operators more versatility when it comes to obstacles or limiting factors during a pour. For example, if a contractor is pouring a driveway, they can position the handle outward to allow them to walk outside of the forms.
www.curbroller.com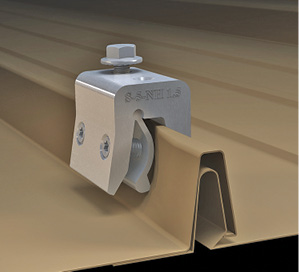 Clamp Technology for Nail Strip Metal Roof Profiles
S-5! introduces the newest addition to its line of clamp product solutions, allowing rooftop ancillaries to be attached to standing seam metal roofs.
The NH 1.5 is part of the "N" line of clamps developed for nail strip profiles. Designed specifically for 1½" (38 mm) nail strip profiles with a wider horizontal dimension (> 0.475" and ≤ 0.800"), the S-5! NH 1.5 is an ideal mounting solution for VicWest Prestige, New Tech FF150, and similarly dimensioned profiles.
"More and more panel manufacturers are coming onto the scene with nail strip type profiles," said S-5! CEO and founder Rob Haddock. "Although they all look similar, there is a range of dimensioning. This profile is one of the most challenging out there for S-5! quality penetration freedom and affordable production costs. Our S-5! Research and Development Team spent months in concept and prototyping to come up with the most versatile, cost-effective, state-of-the art solution."
The NH 1.5 features an innovative "hinge" and forms to the shape of the seam, preventing damage at the point of attachment, while offering optimal holding strength. The reversible insert allows for superior fit on both wide and medium-width profiles.
For ease of installation, the T-30 Torx setscrews are angled to facilitate tool insertion and improve driver bit withdrawal after screw tensioning. The clamp is available in both Standard and Mini sizes and made from 6000 series aluminum, with 300 series stainless steel hardware. The NH 1.5 is engineered for heavy load-critical applications, such as snow retention.
www.s-5.com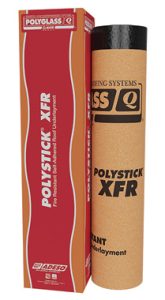 A New Self-Adhering Fire-Resistant Roof Underlayment
Polystick XFR is a dual-purpose, fire-resistant, self-adhered waterproofing underlayment. Utilizing ADESO® dual-compound self-adhered technology, Polystick XFR features an SBS (elastomeric) modified bitumen upper and an aggressive self-adhesive bottom compound. Patent-pending Burn-Shield Technology provides superior fire resistance. Featuring a slip-resistant film surface that can be exposed for up to 180 days. With a temperature resistance of up to 265°F, Polystick XFR is ideally suited for high temperature roof covering systems such as steel and copper roofing where fire resistance is required or desired.
www.polyglass.us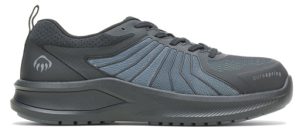 Wolverine "World's Most Comfortable Safety Toe Shoe"
The Wolverine Bolt is the first ever safety toe athletic shoe with the comfort of Wolverine DuraShocks® and Wolverine DuraSpring™ cushioning, making it the most comfortable safety toe shoe, guaranteed. The outsole is specifically tuned for slip resistance, with extended pads to increase surface contact with the ground. Wolverine DuraShocks technology absorbs shock and returns energy for all day comfort. DuraSpring cushioning provides long-lasting dynamic cushioning, retaining more than 40% rebound than standard EVA.
Specs and tech include: a breathable stretch mesh upper, a moisture-wicking mesh lining, a removable DuraShocks PU footbed, a DuraSpring Low Density PU midsole, a Wolverine DuraShocks Dual Suspension Pads outsole, cement construction, a nylon shank, and CarbonMAX® Composite Toe (ASTM F2413-18 M I/75 C/75 EH).
www.wolverine.com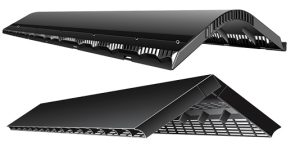 TruRidge and HighPoint Roof Ventilation
Atlas Roofing Corporation has introduced its new TruRidge® and HighPoint® Roof Ventilation intake and exhaust systems. They are the company's first ventilation products designed to improve home energy efficiency and maintain optimal roof performance as part of the Atlas Signature Select® Roofing System.
Atlas TruRidge and HighPoint products help create a balanced attic ventilation environment that allows air to circulate, providing a more comfortable living space and reduced temperature extremes. Proper ventilation helps control heat and humidity, which can contribute to deck rot or mold, shingle buckling, ice dams, and premature aging of a roof system. The TruRidge and HighPoint systems are manufactured with a proprietary polymer that is formulated to withstand the rigors of severe weather conditions. When properly installed, TruRidge and HighPoint exceed U.S. Department of Energy recommendations and all nationally recognized ventilation building codes.
Both TruRidge and HighPoint systems provide an equal balance of air intake and exhaust within a variety of options. The net free area (NFA) of each system runs from 12 to 18.
www.atlasroofing.com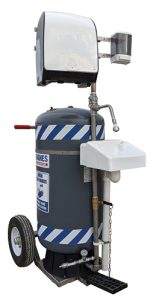 30-Gallon Portable Handwashing Station
Justrite has announced the launch of the Portable Handwashing Station, a mobile, self-contained hand cleansing system that allows employees to effectively wash their hands in any location.
The Portable Handwashing Station features a 30-gallon tank that supports approximately 150 handwashes. The self-contained handwashing station provides a reliable way for personnel to ensure they can practice safe, personal hygiene whatever the location. The station features hands-free foot activation for ease of use and to help minimize cross contamination.
It also features fillable soap and paper towel dispensers, making it an all-in-one hand sanitization station that can be placed anywhere, indoors or out. Without having to leave the work floor, an employee can wash their hands often between tasks in full confidence of their safety.
Germs spread easily from people or surfaces. This is especially important to take into consideration if employees come into contact with surfaces that may be frequently touched by other people. Handwashing is the most effective way to minimize the spreading of germs, especially after blowing one's nose, coughing, or sneezing. The CDC advises frequent handwashing can keep you healthy and helps prevent the spread of respiratory and diarrheal infections from one person to the next.
www.justrite.com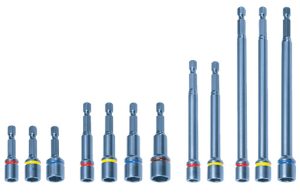 Impact-Grade Magnetic Chuck Drivers
Malco Products, one of the nation's leading manufacturers of high-quality tools for professional use, recently introduced a new line of Impact-Grade Magnetic Chuck Drivers that drive screws faster and easier than any other tool.
Malco's Impact-Grade Magnetic Hex Chuck Drivers are a distinctive blue color, signaling performance quality that can withstand the kind of impact driver stress that is characteristic for each fastening application.
All Malco Impact-Grade power drivers are precisely machined for positive, fail-proof engagement of the fastener head and feature unique high-torque steel construction and a design that absorbs and dissipates impact driver-induced stress at peak loads.
www.malcoproducts.com