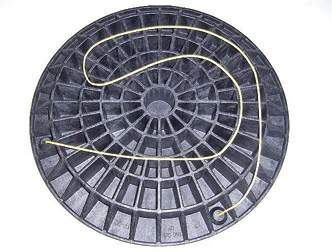 FootingPad Announces 20″ Dia. Post Foundation
FootingPad® is a post foundation used in post-frame, deck, and other post-in-ground structures. It is made in the U.S. of a composite material combining polypropylene and fiberglass. FootingPad has added a 20″-diameter version to join four other sizes (10″, 12″, 16″, and 24″). This newest footing supports up to 6,545 lbs per post. The International Code Council–Evaluation Services (ICC-ES) has just certified the new 20″ as compliant to IRC and IBC code requirements.
It completes a line of composite footings with load capacities for almost all applications. Additionally, FootingPad has developed an online footing size calculator that guides users to choose the best size FootingPad for their project. The calculator allows the user to enter data for their post-frame or deck projects with output that offers the appropriate footing size. See it at www.footingpad.com on the "Building Professionals" page.
"A footing's success or failure is dependent on the load and surface area of the footing, and these variables do not change based on the material of which the footing is made," said developer Glen George. "FootingPad is tested to be stronger than the soil capacity and is certified at soils up to 3,000 psf load capacity. If overloaded, the soil gives way long before the FootingPad will fail."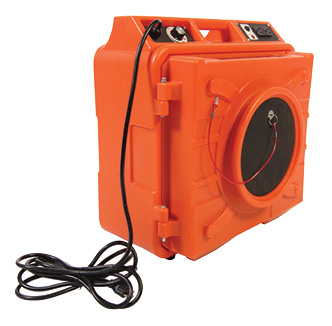 General Equipment Company
Introduces Portable HEPA Air Filter
The AF501 portable HEPA air filter is General Equipment Company's latest addition to its AIR-SCRUB-R™ line. This compact, efficient unit delivers air scrubbing/negative pressure air movement capabilities, as well as outstanding air filtration in a wide range of industrial and construction-related job applications in nonhazardous locations.
Featuring a two-stage design, the AF501 includes a 30% pre-filter and a 99.97%-efficient HEPA secondary filter, capable of capturing allergens and other particles as small as 0.3 microns. The pre-filter can be replaced with an optional activated carbon filter to help absorb a variety of volatile organic compounds (VOCs), smoke, and other noxious odors and contaminants. An indicator light on the unit alerts users when to change filters to maintain optimum airflow and filtration.
The AF501 offers a 9½"-diameter inlet for maximum airflow and low power consumption. It also allows easy attachment of standard ventilation ducts for negative/evacuation airflow applications. Other standard features include a ¼-horsepower, 115 VAC electric motor, aluminum hub/blades, and a high-density polyethylene housing that is UV-resistant. The AF501 weighs only 31 pounds and is stackable for easy transport and storage. It operates quietly with sound levels ranging from 56 to 72 dBA.
Stay Comfortable With Makita's Hot Fan Jacket
Keep cooler in hot job site conditions with the 18V LXT® Cordless High Visibility Fan Jacket. The 18V LXT Cordless High Visibility Fan Jacket utilizes the same 18V lithium-ion slide-style batteries that work in your power tools. Fan units provide air circulation inside the jacket for up to 11¼ hours of run time on the high setting when using a 5.0Ah LXT battery (BL1850, sold separately).
The fluorescent fan jacket has silver reflective tape accents and a polyester shell for increased wind and water resistance. The fan jacket has three airflow modes so you can adjust the airflow to the work conditions. The additional turbo mode provides optimum air circulation and effective cooling. It is an ideal solution for working in full-sun conditions, such as road workers and landscapers, those who work in attic and crawl spaces, or anyone seeking cooling relief in hot job site conditions.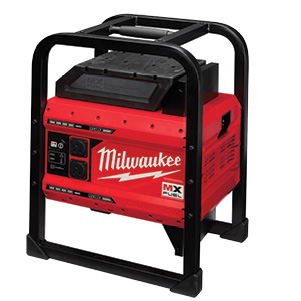 Portable Power, Anywhere
Milwaukee's new MX FUEL™ CARRY-ON™ 3600W/1800W Power Supply provides the best power for the job. You can power more on-demand with efficient, quiet, and portable power, anywhere. The portable power supply provides 3,600 peak watts of pure sine inverter energy, powering everything from your high-demand 15A tools to sensitive electronics. The compact size, zero emissions, and quiet operation of the power supply unit allow you to use it safely in confined spaces indoors, while the metal roll cage provides durability for outdoor job site use.
The battery-powered generator eliminates the cost of gasoline and doesn't require engine repair or maintenance, reducing downtime and allowing you to get jobs done faster.