Multipurpose builds are popping up around the country; you'll see why after taking a peek at this beauty. Kansas-based Quality Structures worked with the owner to marry horse stalls with storage in an overall footprint that is just shy of 3,000 square feet—plenty of space for both function and comfort.
A plethora of doors—four overhead, three walk, four Dutch, and two bale—make it easy to move equipment, feed, and the family's prized horses in and out, while seven windows provide ample natural light. The horses themselves enjoy three roomy 12′ x 12′ stalls plus a handy 12′ x 12′ wash bay.
To keep the building safe from the hazards of moisture and microbes in the soil, 22″ Plasti-Sleeves were used for all foundation posts. This will allow the barn to stand for many years to come.
Protecting from above is a 29-gauge exposed-fastener metal roof in Burnished Slate with a color-coordinated gutter system. A vented 3′ cupola adds a classic touch while also allowing for critical air movement. The roofline is visually accented with symmetrical 4′ dormers flanking each side and roof extensions at the peak. Matching eyebrow overhangs dress up the walk doors and tie it all together. FN
Project Details
Builder: Quality Structures
Location: Rural Kansas City, Missouri 
Primary Use: Equine shelter plus storage
Project Size: 36′ x 48′ x 12′ center structure with 12′ x 48′ x 12′ open lean-to and
14′ x 48′ x 12′ enclosed lean-to
Primary Supplier: Quality Structures 
Roofing & Cladding: Quality Structures 29-Gauge Panels in Burnished Slate and Taupe
Overhead Doors: C.H.I. Overhead Doors
Walk Doors: Masonite
Windows: Simonton
Insulation: Solex
Foundation Products: Plasti-Sleeve
Fasteners: Atlas Building Products
Stalls: Saratoga Stalls
Cupola: Cannonball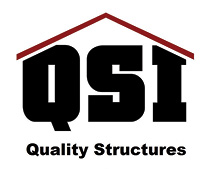 For additional information, visit www.qualitystructures.com.